Enhance Your Security with Octo Browser and Residential Proxies
Fortify your digital identity and manage multiple accounts without a single hassle with Octo Browser and residential proxies from Smartproxy.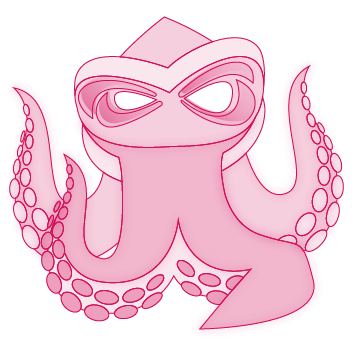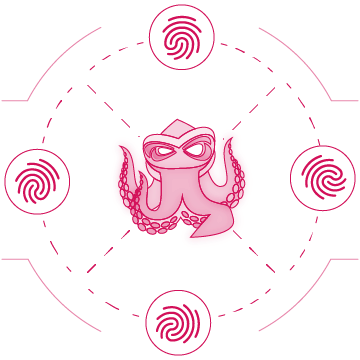 Octo Browser, a Chromium-based browser that features anti-detect features. Users can create and manage multiple browser profiles with unique fingerprints from a real device. When running automation tasks or using several social media accounts, Octo Browser, paired with residential proxies, helps users minimize the risk of CAPTCHAs or facing an IP ban hammer.
Users love the Octo Browser for its ease of use, ability to create as many profiles as the user needs, convenient profile export and import, and flexible pricing options.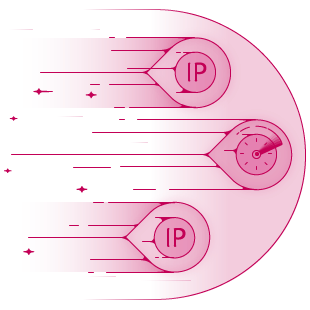 Residential proxies offer a massive pool of 55M+ IPs from more than 195 locations around the globe. By combining Octo Browser with our residential proxies, you can enjoy top-notch security and manage multiple accounts with ease.
Aside from multi-accounting, users can also complete web scraping tasks, bypass geo-restrictions, and manage their eCommerce projects with IPs originating from real residential household devices.
Set up Smartproxy proxies with Octo Browser
1. Download the Octo Browser by clicking Download on their top menu.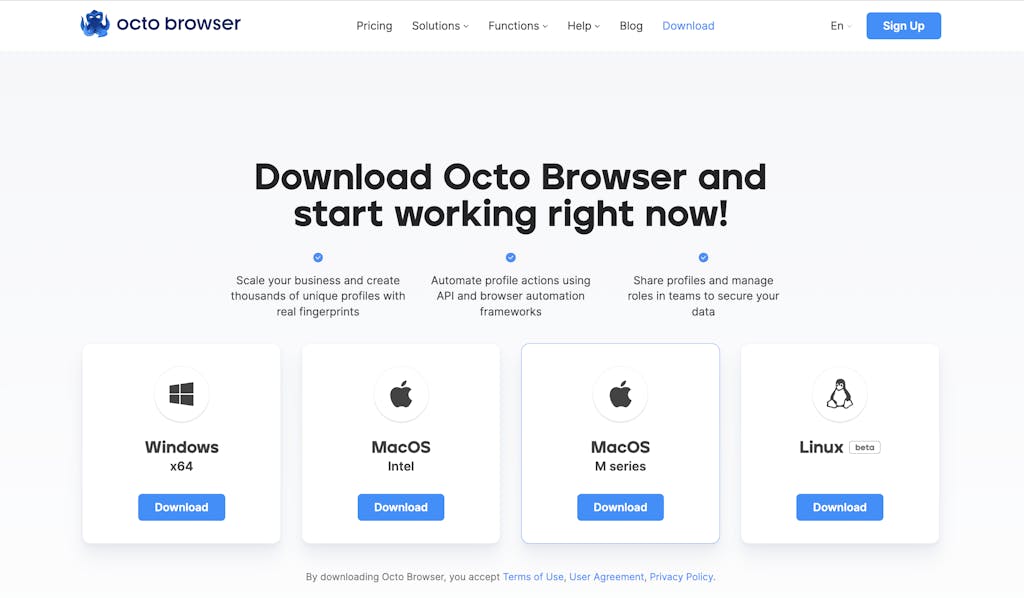 2. Once your account is up and running, navigate to Proxies and click Add Proxy.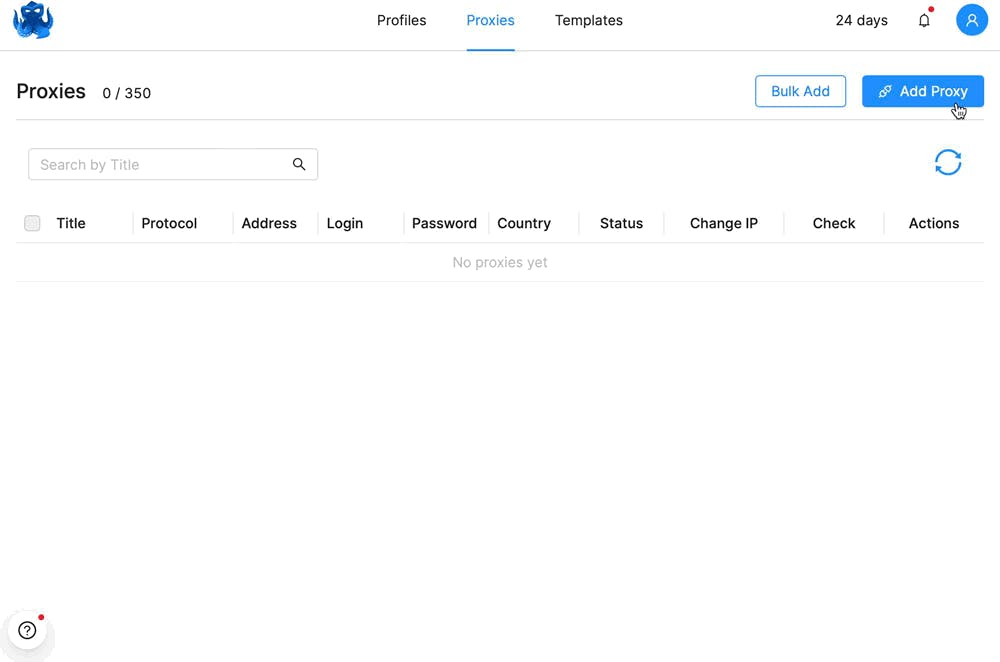 3. Then, enter your proxy details and save it. You can also easily test your proxy connection by clicking on Check proxy button. For you convenience, import proxies singly or upload them in bulk.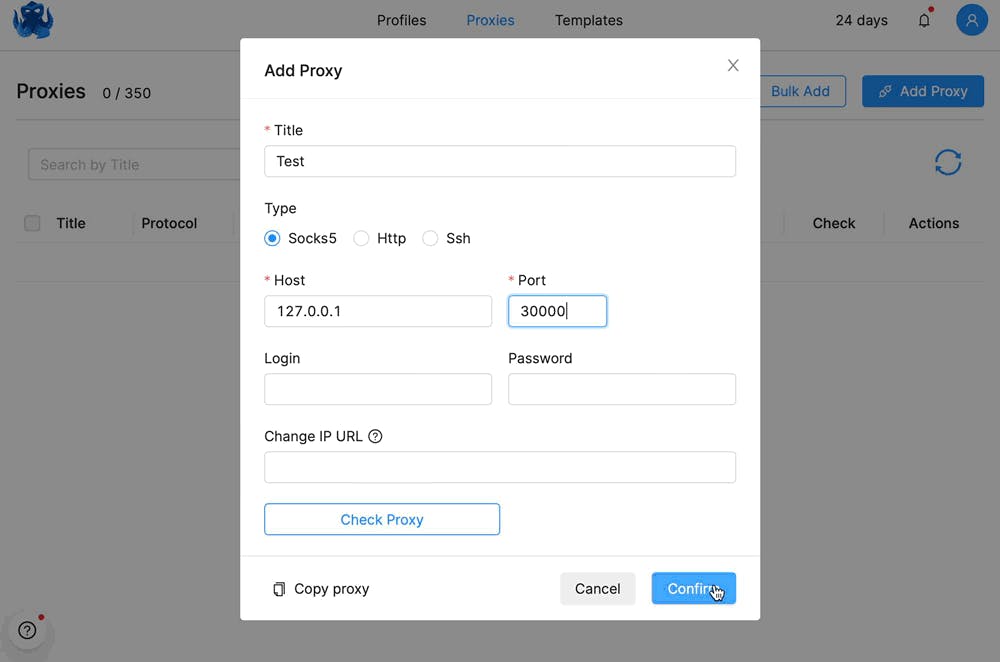 4. Your proxy is now ready to help you do great things! You can add as many profiles as you like and need, and edit them in just a few clicks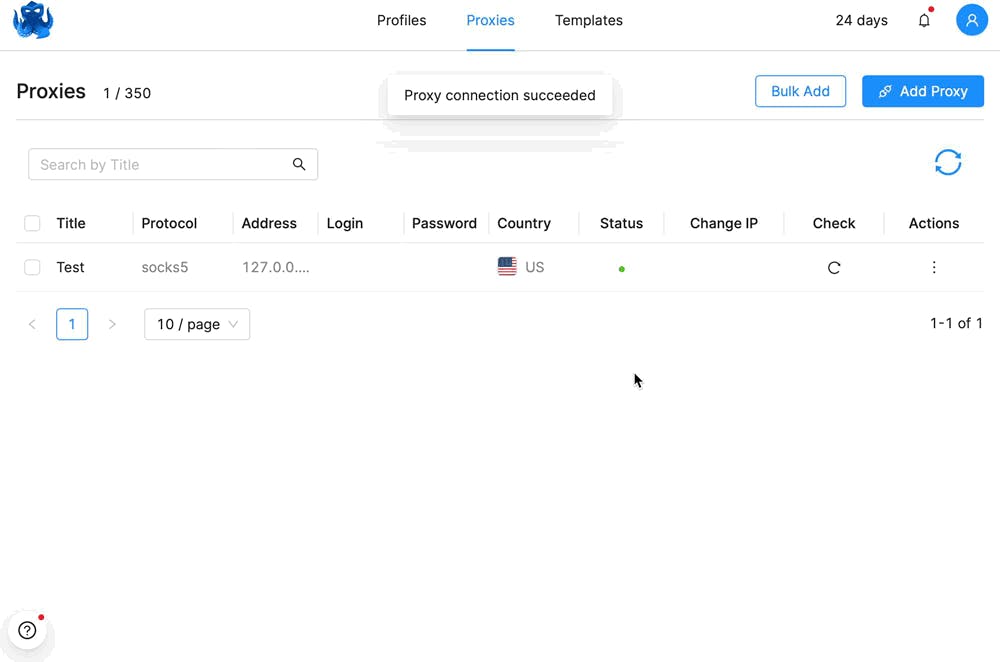 Here's a detailed how-to guide on how to set up proxies with Octo Browser.
Choose Smartproxy

Never get flagged
Go undetected by using rotating household desktop and mobile device IPs.

Unlimited connections & threads
Send unlimited concurrent connection requests and reach your targets successfully no matter the scale.

Affordable pricing
Use the Pay As You Go payment method for residential proxies to get the best price.

14-day money-back
Feel free to get a full refund if it doesn't work out for you.

City-level targeting
Choose from 55M+ residential IPs with more than 195 locations.

Intuitive setup
Easily set up and use our proxies with most third-party software.
Fastest residential proxies
Pick a plan that suits you. Get ahead with unblockable and stable proxies.
With each plan you access
55M+ ethically-sourced IPs
HTTPS & SOCKS5 support
99.47% success rate
24/7 tech support
Unlimited concurrent sessions
Country & city-level targeting
<0.6s average response time
Rotating and sticky sessions
SSL Secure Payment
Your information is protected by 256-bit SSL
What people are saying about us
We're thrilled to have the support of our 50K+ clients and the industry's best
Clients
Awards
Industry experts
Recognized by:
Residential proxies are full of awesomeness

Unlimited connections and threads

55M+ rotating IPs
IPv4, HTTP(S) & SOCKS5 addresses

Over 195 countries

Easy proxy setup
Real mobile and desktop devices IPs

Awesome 24/7 customer support

<0.61s average response time

Up to 30 min. sticky sessions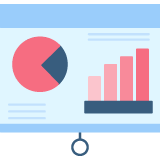 Traffic usage statistics
Frequently asked questions
What is a residential proxy?
A residential proxy is an intermediary server that routes your internet traffic through an IP address provided by an internet service provider (ISP) to appear as if it's coming from a regular residential connection. In simpler terms, it masks your IP address with one from a pool of genuine residential addresses, making it seem like you're accessing the internet from a real home or office.
What payment methods do you accept?
We accept payments with credit cards, PayPal, Alipay, Google Pay, and Apple Pay. You can also pay with cryptocurrency for all products except ISP proxies and datacenter proxies (Pay per IP option).
All orders are processed by our online reseller Paddle.com which is a Merchant of Record for these orders. To contact Paddle's support team, reach out via Paddle.net.
MoreLogin has a free plan with features such as local API, browser automation, and more.