Flexible pricing options


Keep your costs low – pay only for the features you need and be able to scale them up. Choose between Pay per IP and Pay per GB pricing options.
Robust proxy performance


Enjoy <0.3s average speed, stability and reliability with a 99.99% uptime when scraping targets without advanced anti-bot systems.
Intuitive setup


Easily set up proxies and integrate them with any popular browser, automation bot, or scraping tool. If you need help, chat with 24/7 tech support.
Pick the most suitable datacenter proxies' pricing method
An exclusive IP pool with a possibility to customize the number of IPs.
Preferred locations worldwide.
Possibility to choose the amount of traffic.
Unlimited concurrent sessions and threads.
Rotating & static sessions.
A shared 100K+ IP pool worldwide.
Chosen amount of traffic.
Unlimited concurrent sessions and threads.
Rotating & static sessions.
You want to get a specific amount of IPs and traffic.
You need a big pool of rotating proxies.
Number of IPs and traffic (bandwidth).
Use datacenter proxies for any project and tech stack
Customizable pricing methods

Whitelist your IPs and select different proxy features and locations when you choose the Pay per IP pricing option.

Seamless proxy integration

Configure IPv4 proxies in major browsers and devices, and integrate them with any software, bots, or scripts, including iOS and Windows operating systems.

In-depth developers' documentation

Additional tools for free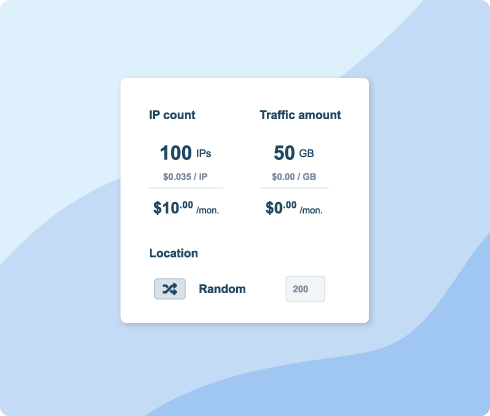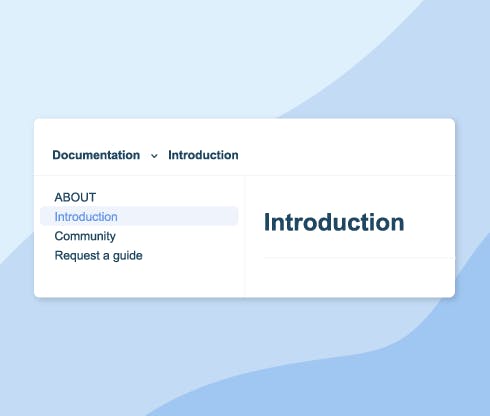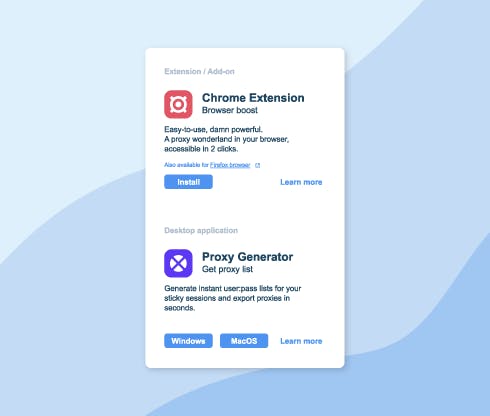 5 reasons to choose our DC proxies
Advanced rotation


Don't worry about the old school proxy lists – get a unique proxy for each connection request or use sticky sessions to keep the same IP longer
Easy self-service


Use our user-friendly dashboard for sweat-free proxy management. Find out relevant statistics about your traffic usage, requests, and top targets.
High scalability


Sky's truly the only limit: effortlessly juggle projects of any size with unlimited concurrent sessions, connections and threads with Pay per GB.
Private proxies


Need more privacy and ownership of your IPs? Try dedicated datacenter proxies – get 400K+ static private IPs in the US with unlimited traffic.

Money-back option


Try our datacenter proxies with one of the best entry points in the market. If you're not satisfied within the first two weeks – we'll refund you (terms apply).
Top datacenter proxy locations
Datacenter proxies for every use case
Market Intelligence


Collect publicly accessible data en masse and scrape websites that don't have advanced anti-bot systems.
Entertainment


Browse the web, use media streams, and play games. Enjoy VPN-like services and access geo-blocked content in sites such as YouTube.
Cyber and brand security


Stay anonymous and secure on the internet, protect your personal and business data from potential cyber attacks.
Flexible datacenter plans
14-day money-back
99.99% uptime
Unlimited connections and threads
SSL Secure Payment
Your information is protected by 256-bit SSL
Google Pay and Apple Pay are only available with Smart Wallet
What people are saying about us
We're thrilled to have the support of our 50K+ clients and the industry's best
Praised for the exceptional standards of security, anonymity and ethical IP sourcing practices.
Recognized 3 years in a row for premium quality products with the best entry point.
Awarded for the most user-friendly way to access local data anywhere successfully.
Featured in:
Frequently asked questions about datacenter proxies
What are datacenter proxies?
Datacenter proxies are remote computers with their own IP addresses. They act as an intermediary between you and the target website: instead of connecting to the website directly, your request goes via proxies to hide any identifying personal information.
Datacenter proxies share subnets which makes them easier to block compared to the more resilient residential proxies. However, since datacenter proxies are running on insanely fast machines, their connection speed and stability are definitely better – and speed can sometimes be the most important factor for your scraping projects.
What are the use cases for datacenter proxies?
Here are some popular use cases for datacenter proxies:
Web scraping. Datacenter proxies enable quick and anonymous web scraping by rotating IP addresses and preventing IP blocking.
Ad verification. Advertisers can use datacenter proxies to verify the placement and visibility of their ads across different geolocations.
SEO monitoring. Datacenter proxies allow businesses to monitor search engine rankings and track local search results from various locations.
Brand protection. Datacenter proxies help protect brands by monitoring and detecting online trademark infringements or unauthorized uses of intellectual property.
Speed and reliability testing. Companies can use datacenter proxies to test the performance and accessibility of their websites and applications from different locations worldwide.
Market research. Datacenter proxies facilitate market research by providing access to localized online content, competitor analysis, and pricing information.
How do datacenter proxies work?
Datacenter proxies route your internet traffic through servers located in data centers. These servers act as intermediaries between you and the websites you visit, masking your real IP address and providing you with a different IP.
Are datacenter proxies detectable?
Indeed, compared to other proxy types, datacenter proxies are more likely to be detected by websites and services. While datacenter proxies effectively hide your real IP address, some platforms have advanced methods to identify and block these IP addresses.
However, you can increase your chance of avoiding detection by using high-quality datacenter proxies from reputable providers like Smartproxy!
What is the difference between residential and datacenter proxies?
The main difference is that datacenter proxies are generated at remote computers, a.k.a. data centers, while residential proxies provide IP addresses that come from household devices.
Our datacenter proxies are faster, more reliable, and cheaper than residential proxies, as they are hosted on high-speed servers in data centers with stable connections.
Even though datacenter proxies may be less suitable for scraping certain targets with advanced anti-proxy systems, they can still provide remarkable security and anonymity.
What are the advantages of datacenter proxies?
Two of the greatest advantages of datacenter proxies are speed and reliability. These proxies are commonly used for tasks that require a quick response time and reliable connections, such as load testing, automated tasks, and certain SEO activities.
Datacenter proxies are easier to scale up as they're not tied to physical devices. You can easily acquire multiple proxies from a provider to accommodate your needs.
Our datacenter proxies are exceptional for their advanced rotation capability, unlimited concurrent sessions, connections, and threads, and low price point.
How fast are datacenter proxies?
Datacenter proxies are generally the fastest proxy type, but their speed depends on the proxy provider. At Smartproxy, we use only high-quality servers, so our datacenter proxies have an astonishing response time of <0.3 seconds – one of the fastest in the market!