How to Set Up a Proxy on Android Device With No Hassle
Wanna scale your web scraping projects and ensure online privacy? We've got some great news for you – an Android proxy's here to help.
Learn to configure the Android proxy settings on your phone or tablet with a step-by-step guide.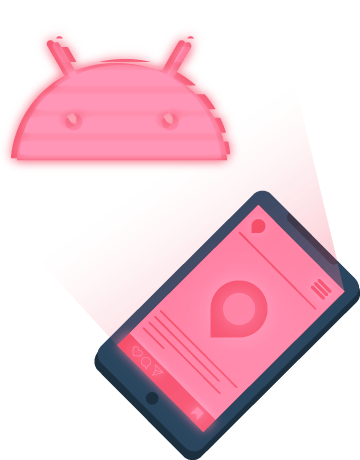 65M+ proxy pool

195+ locations

<0.61 response time

99.47% success

City-level targeting

Unlimited connections and threads

HTTP(S) & SOCKS5 proxies

24/7 support

Pay As You Go
What's an Android proxy server?
OK, let's start from the basics. You see, Android proxy server is an intermediary between your device and target website: instead of connecting to the website directly, you first go via proxy to hide any identifying info. It works as a bridge letting data flow smoothly and allowing you to tweak things, adding a touch of customization to your online experience. 
How to configure proxy settings
1. Open your Android's Settings by clicking on the gear icon.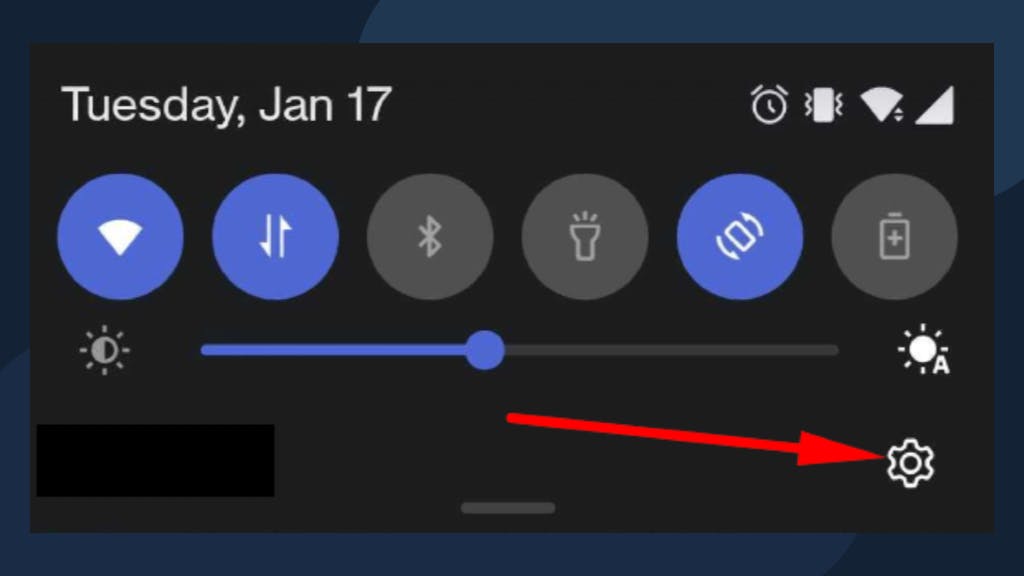 2. Tap Wi-Fi.
3. From all the Wi-Fi networks, tap the ⓘ icon next to the Wi-Fi you're connected to.
4. Click on Proxy to see all the advanced options.
5. Change your Android proxy settings. Select Manual.
Enter the Host Name and proxy Port (e.g. gate.smartproxy.com:7000). The same works for both residential and datacenter proxies; only the endpoint:port will be different – for example, gate.smartproxy.com:7000 will become gate.dc.smartproxy.com:20000.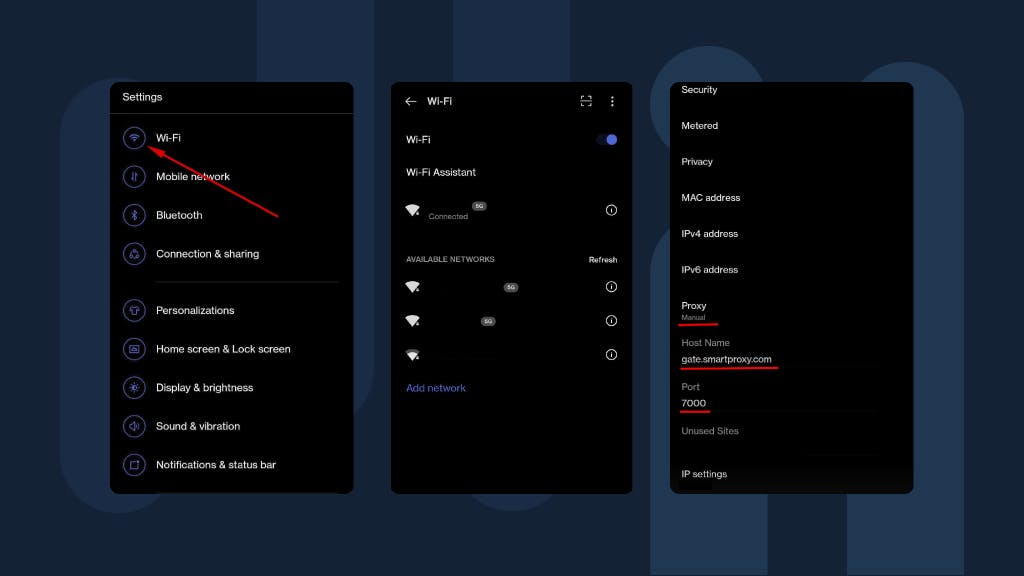 How to turn off Android proxy settings
Well, it's much easier than you think. To turn off proxy server settings on Android devices, in configuration step 6, instead of Proxy > Manual, choose Proxy > None.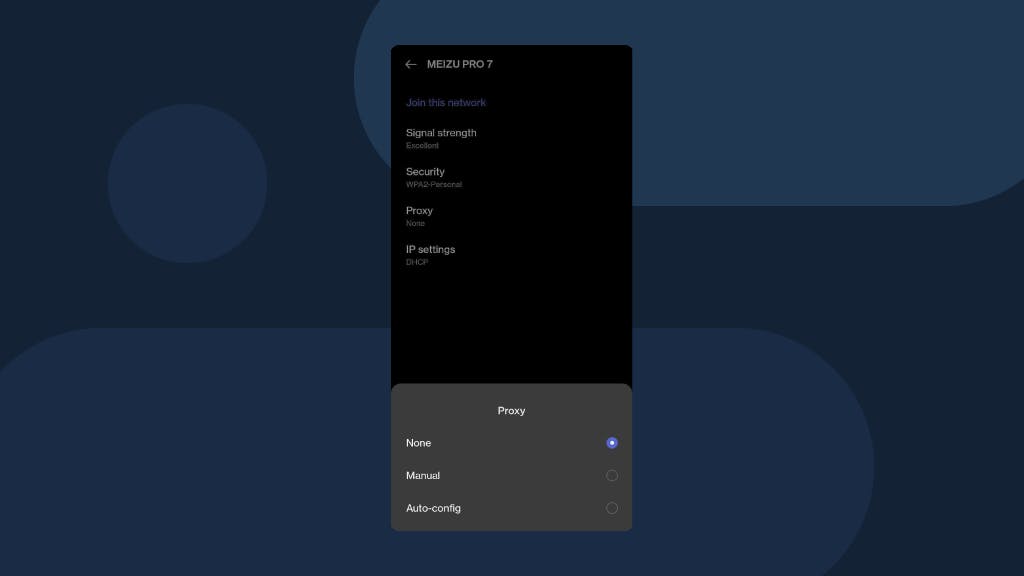 Why should you use a proxy server
Having privacy and online security concerns? We got you, buddy. As proxy servers hide IP addresses, they guarantee privacy, security and anonymity. Proxies let to bypass geo restrictions, access content from all over the world, avoid IP blocks and CAPTCHAs, and much more. You want to use proxies for cases, such as web scraping, price aggregation, sneaker copping, ad verification, SEO.
Why Smartproxy is the best value proxy provider
No restrictions
Bypass geo-restrictions, forget CAPTCHAs and IP bans. All with 65M+ IP pool in 195+ locations with state-, country- and city-level targeting. 
Unlimited connections and threads
Effortlessly juggle projects of any size with unlimited concurrent sessions, connections and threads.
Easy to use
No-hassle setup and third-party integrations, smooth self-service, the quick start guide, public API, and extensive documentation. Have questions? Get 24/7 tech support, 
High success rate
When we say that we have dope proxies, we mean it. Our proxy IP servers are the fastest and have one of the highest success rates in the market – try it out yourself. 
Free tools
X Browser, Chrome Extension, Firefox Add-on… and the list goes on. Power up your proxies with free tools to have the best proxy experience. 
14-day money-back
If you're feeling wary, we don't blame you. Our industry is rife with vendors who overpromise and underdeliver. Don't fret. Order any package and think about it for 14 days. In case you're not satisfied with our product, we'll refund you (terms apply).
Frequently asked questions
What is an Android proxy server and what does it do?
A proxy server is an intermediary between your Android device and the internet. Proxy servers allow you to hide your IP address, overcome restrictions, such as CAPTCHAs, geo-blocks, and IP bans, and scale your business by automating tasks.
Can I use a proxy on Android?
Yes, you can use a proxy on the Android version of your device – and we're here to show you how.
Should I turn a proxy server on or off?
​​Keep the proxy server on if you want to hide your IP and surf anonymously. Else, turn it off. Keep in mind that using a proxy server can slow down your internet and use up more data.