Discover The Power of ISP Proxies with Rotating On-Demand IPs
Experience the unbeatable reliability and speed of our ISP proxies. Get datacenter speeds with the rock-solid stability of residential proxies.
Unlimited threads & concurrent sessions
What is an ISP proxy?
Static residential or ISP proxies are IPs provided by Internet Service Providers (ISPs). These proxies offer a unique blend of benefits, making them ideal for both individuals and businesses seeking the authenticity of residential IPs, along with the stability usually matched with datacenter proxies.
High-speed performance
Enjoy an incredible 99.99% uptime. That's the stability you get with every ISP proxy session, and we can guarantee that.
A range of subscription options
Pick a plan that suits your needs and stay safe and sound with a 14-day money-back option.
Customization at its best
Enjoy forever website sessions and customize your ISP proxy settings to match your every use case.
See how ISP proxies combine the best of all
Most wanted features:
Access to the whole IP pool
Residential
ISP
Datacenter
Mobile
Tame all use cases with ISP proxies
Effortlessly collect public data and enhance your competitive advantage by equipping our top-notch ISP proxies, discovering valuable insights along the way. 
Social media marketing
Complete various social media automation tasks without encountering blocks or restrictions.
eCommerce management
Escape geo-restrictions and reach all the major online marketplaces around the globe.
SEO tasks
Collect precious search engine data, perform keyword analysis, and monitor rankings in various locations.
Price & travel aggregation
Effortlessly gather up-to-the-minute pricing and availability information from numerous websites.
AdTech
Equip ISP proxies and run ad campaign testing, collect competitive insights, and identify bot traffic.
Market research
Retrieve regional data for valuable insights, monitor consumer behavior, and examine competitors' advancements.
Data collection
Run large-scale web scraping while avoiding IP restrictions and CAPTCHAs with reliable ISP proxies.
Brand security
Spot trademark violations, report unauthorized use of your brand assets, and stay OG.
Seamless integration and comprehensive usage statistics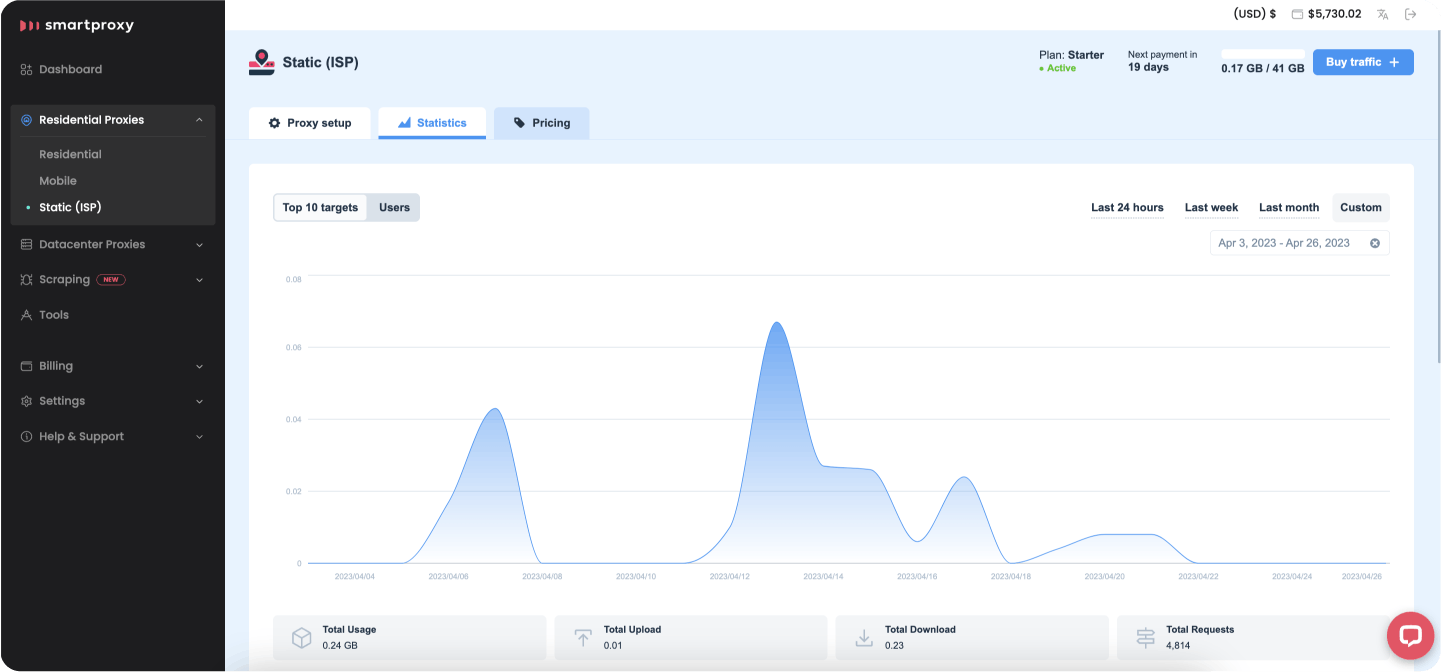 Hassle-free integration & complete usage statistics at a glance
Explore a user-centric dashboard that kickstarts yo' proxy configuration. Wave goodbyes to complicated integrations and unleash growth with real-time data. Whitelist your IPs, manage users, and track vital statistics like top targets and traffic in one convenient dashboard.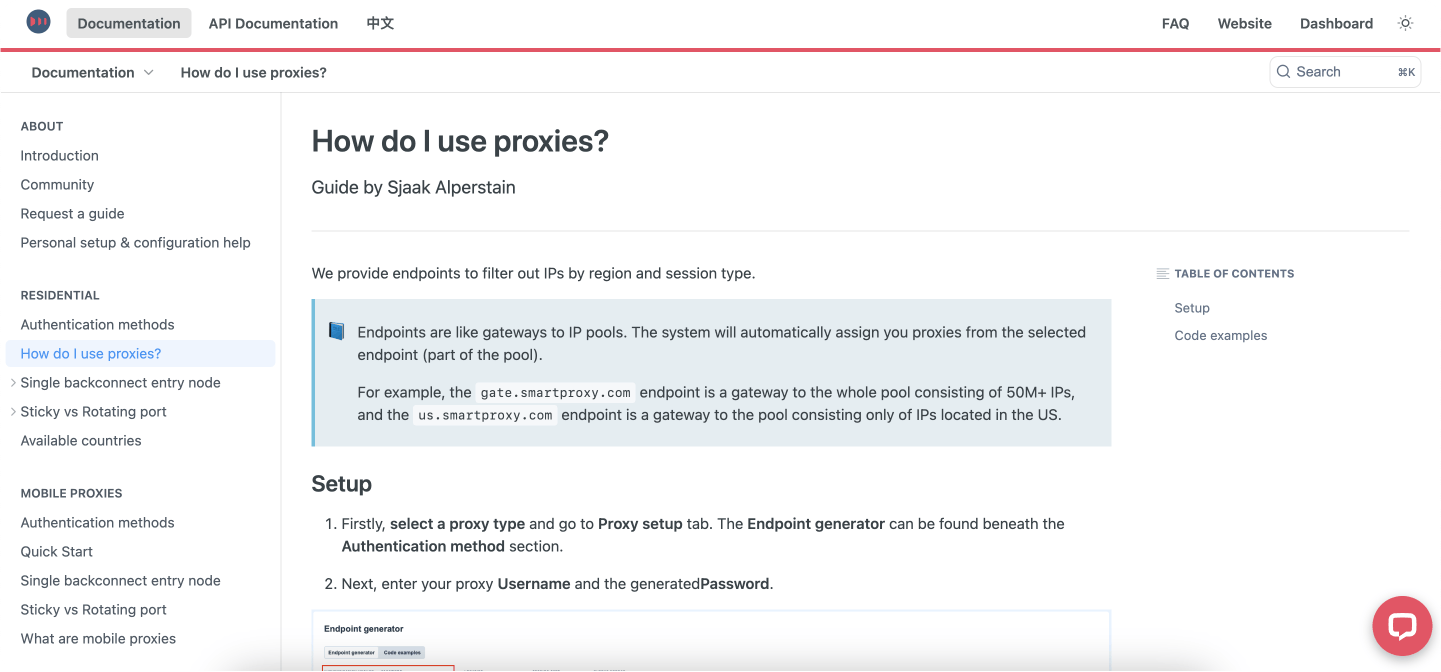 A range of free features and tech support
Get the support you need throughout your proxying journey through 24/7 LiveChat
Dedicated account managers
Developer-friendly documentation
Quick start guide for your easy peasy proxying journey
You ask, we deliver – frequent product releases
Grab powerful ISP proxies for a bargain
With each plan you access
Rotating on-demand IPs
99.99% uptime
Unlimited connections & threads
US-level targeting
Unlimited-duration sessions
30Gbps bandwidth limit
24/7 tech support
In-depth dev documentation
SSL Secure Payment
Your information is protected by 256-bit SSL
Google Pay and Apple Pay are only available with Smart Wallet*
Discover why users love Smartproxy
Don't just take our word – check what over 1K+ reviews on Trustpilot and industry experts say about us.
Praised for the exceptional standards of security, anonymity and ethical IP sourcing practices.
Recognized 3 years in a row for premium quality products with the best entry point.
Awarded for the most user-friendly way to access local data anywhere successfully.
Featured in:
Frequently asked questions
ISP proxies, also known as static residential, are IPs allocated to a device by an Internet Service Provider (ISP). These proxies are highly advantageous for individuals seeking to browse the internet incognito and execute a wide range of web scraping, SEO, and social media automation tasks.
Do ISPs use proxy servers?
ISPs may use proxy servers for various reasons, including optimizing network performance, improving security, and caching content to reduce bandwidth usage. These proxy servers help manage and route internet traffic efficiently within their networks, enhancing the overall browsing experience for the users.
Are ISP proxies better than residential?
It all depends on the use case. In some cases, residential proxies win over ISP proxies due to their superior anonymity and reliability. However, there're scenarios where ISP proxies might be more suitable, particularly for tasks that require high speed and a static IP address that lasts longer than 30 minutes.
Does a proxy hide you from your ISP?
A residential proxy is an IP address assigned to a desktop device connected to a residential network. Residential proxy IP addresses can be rotated with each request or at a selected period.
A proxy does not fully hide you from your ISP. When you use a proxy, your internet traffic is routed through the proxy server before reaching its destination, which can mask your IP address from the target you're trying to access. However, in most scenarios, your internet provider can still see that you're using a proxy.
What type of IPs do static residential proxies pool consist of?
Currently, we're offering a shared IP pool. However, we're working on bringing dedicated IPs in the very near future! We're offering 16K+ static (ISP) residential proxy pool, based in the US.