Battle-Tested Residential Proxies from Turkey
Rock that precious public data with our 1 951 877 high-caliber Turkish proxies network. 
Jumpstart your project and target any city in Turkey with our tried and true residential IP addresses. Get IPs from Istanbul, Ankara, Izmir, or any other city. Be ahead of the game with our best-in-class Turkey proxy network!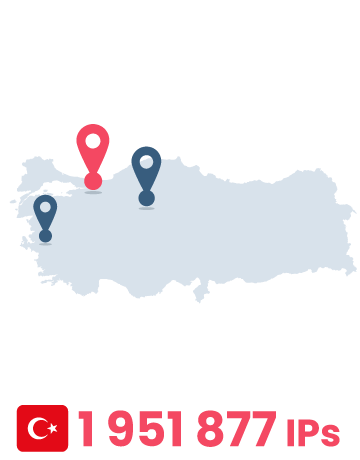 Real mobile and desktop devices IPs

Unlimited connections and threads

99.99% uptime

0.61s avg response time

Advanced proxy rotation

Up to 30 min. sticky sessions

Round-the-clock support

Easy setup

Pay As You Go option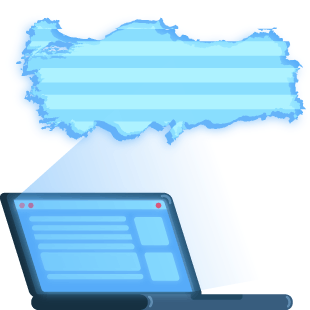 One-of-a-kind Turkish IP addresses to scale your project
Trying to reach Turkish websites but without local IP it's like herding cats? Chill out, we're coming at you with our almost 2 million Turkey proxy pool. 
Smartproxy city-targeting option allows you to break down barriers and get IPs from almost any location in Turkey. You can choose to connect through a Turkish port or even add a specific city to narrow your project scope.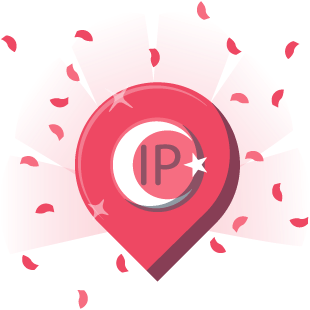 Reach targets in Turkey with an elite residential proxy network
We're not an average proxy provider – we simply offer you high quality proxies for a bargain to spark your business. Our residential proxies come from real devices, located in 195+ places, including Turkey, and are super hard to detect by anti-bot systems. It's your go-to solution while reaching heavy targets, scaling your research, and automating processes.
If you're new to the game – we're ready to guide you through all the steps 'till you reach your desired targets. Have some specific questions about locations and stuff? Just drop a message to our lovely support heroes – some say that they literally respond in 20 seconds!
The magic behind Turkey residential proxies
Give Smartproxy Turkey proxies a shot
Why you should stay away from free Turkey proxies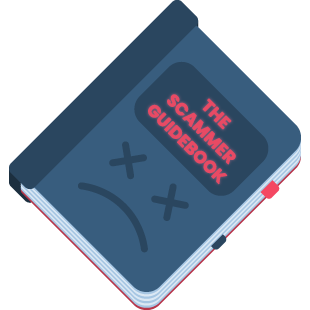 No doubts – everybody loves free stuff. However, if you care about your data security better, stay away from free proxies. They might not cost you money, but they can be coupled with malware, spammy ads, or just be dull and easily recognizable by the websites' anti-bot systems. In the worst-case scenario, free proxies can steal your personal data.
Better don't fall for that sugar-coated "free proxies'' title and go with some elite Turkey residential proxy network. And quality doesn't mean ripping you off – Smartproxy has some decent budget-friendly pricing.
Residential proxies are full of awesomeness

Unlimited connections and threads

55M+ rotating IPs
IPv4, HTTPS addresses

Over 195 countries

Easy proxy setup
Real mobile and desktop devices IPs

Awesome 24/7 customer support

0.61s avg response time

Up to 30 min. sticky sessions
Traffic usage statistics
Target Turkey with Smartproxy products
Product Type
HTTP, HTTPS and IPv4+IPv6
Residential
Yes, from 1 up to 10 or 30 min
Username: Password; IP whitelist
SERP Scraping API
Web Scraping API
eCommerce Scraping API
No-Code Scraper
Real residential IPs worldwide
*Buy until 30.09.2023 and save big on first-time or recurring purchases
Fastest residential proxies – now for less
14-day money-back option
HTTP(s) + SOCKS5
Unlimited connections and threads
Enterprise plans
SSL secure payment
Your information is protected by 256-bit SSL
Google Pay and Apple Pay are only available with Smart Wallet
What people are saying about us
We're thrilled to have the support of our 50K+ clients and the industry's best
Praised for the exceptional standards of security, anonymity and ethical IP sourcing practices.
Recognized 3 years in a row for premium quality products with the best entry point.
Awarded for the most user-friendly way to access local data anywhere successfully.
Featured in:
Frequently asked questions about residential Turkey proxies
A proxy is an IP address that acts as your middleman while connecting to your preferred internet destination. It receives connection requests, sends them to a server without disclosing your initial IP address, and then responds with the requested data. Proxies are usually used to reach geo-restricted content, ensure browsing privacy, or scale the data gathering process.
What is a residential proxy?
A residential proxy is an intermediary that covers your original IP address by replacing it with real mobile or desktop device IP. Since residential proxies come from an ISP (Internet Service Provider), their core benefits are high anonymity and low block rate. Hence they serve the best if you are trying to reach heavy targets such as social media channels.
What are SOCKS4 and SOCKS5 proxies?
Both are types of internet protocol that route network packages between a client and a server. SOCKS4 and SOCKS5 are just different versions of the same protocol. You can call SOCKS5 a more advanced version since it's faster and supports UDP (User Datagram Protocol) connections and handshake authentication. SOCKS4 supports only TCP (Transmission Control Protocol) connections, just like SOCKS5. 
SOCKS proxies are handy when dealing with targets protected by firewalls.
To connect to Turkey's proxy pool, use the proxy address on. Using Smartproxy residential IPs pool, you can pick from over 195 places and filter up to the city level while targeting Istanbul, Antalya, or other locations in Turkey. 
Aside from the location, you can also choose between rotating and sticky sessions. If you want to go with rotating sessions and target Turkey locations, you have to pick a specific domain:port combination and use the specific endpoint of your chosen city or county (in this case, Turkey).  
You can always find more detailed instructions on our documentation.
Is it legal to use Turkish proxies and proxies in Turkey?
Yes, using a proxy server is completely legal. Proxies can be used for various purposes, such as scraping, ad verification, SEO, social accounts management, bots automation, and more.
Of course, some proxy use cases might be illegal, like anything related to financial institutions, governmental sites, ticketing, gaming, mailing, streaming, or Apple/Google stores. As an A-list player, we usually block such use cases to avoid fraudulent activities.