What Is a Proxy Server and How Does It Work?
A proxy is an intermediary server between two devices on a network. When you use proxies, your internet requests are routed via proxy server before they reach the website or service you want to access. As proxies hide your IP address, they allow you to bypass website restrictions and keep your online activity private.
How does a proxy server work?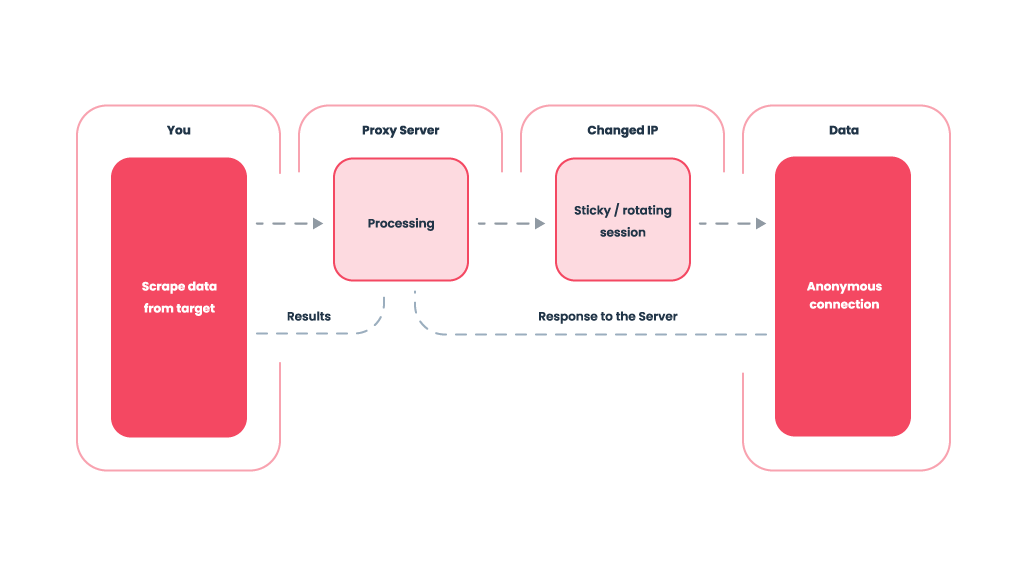 When you use a proxy, all of your requests are first sent to the proxy server. Then, the proxy connects to the website or service on your behalf to request the data. The website sends the data back to the proxy, which then passes it to you. All while using a different IP address to keep your real identity hidden.
Shared datacenter proxies
Dedicated datacenter proxies
Residential IP addresses are real mobile or desktop devices that pinpoint a certain physical location.
Mobile IPs are virtual IPs from real mobile devices. These are connected to mobile carriers and run on mobile networks, which makes them the most successful among all proxy types.
Shared datacenter proxies are virtual IP addresses sourced at powerful data centers.
Dedicated datacenter proxies are datacenter proxies that belong to only you.
X Browser
Browser extension
Variety is proxies' second name
Anonymous proxy, HTTP proxy, transparent proxy... See, there's quite a good slew of proxy types out there, allow us to present them.
Use proxy servers for various use cases
… and most popular targets
Google
Track your Google search query rankings and position changes, and automate the monitoring or SERP results to get the full picture of your performance.
Amazon
Monitor real-time pricing changes on Amazon for similar products, stay on top of the latest trends, and do keyword research to gain a competitive edge.
eBay
Stay updated with real-time price fluctuations on eBay for similar products, stay ahead of the latest trends, and conduct keyword research to gain a competitive advantage.
Enjoy millions of IPs worldwide
Frequently asked questions
If you use a proxy, your connection goes through a proxy server. In other words, when you try to access a certain website, your connection request doesn't go directly to the website. It first goes to a proxy server, which then forwards your request to the website you're trying to reach. This way, your real IP address stays anonymous but you're still able to access the information you need on that website.
What are the advantages of using a proxy server?
If you want to increase your privacy, gather data, manage multiple accounts, crack firewalls, or access location-specific content, it's impossible to do all that from a single IP address. Using a proxy server enables you to use multiple IPs to access information from all over the world without restrictions.
What is the main function of a proxy?
The main reason why proxies were created was to hide your real IP address so that you could stay anonymous whether it would be for personal or professional use.
Is a proxy better than VPN? 
Both VPN and proxies hide the IP address of your device. Unlike VPN, a proxy server doesn't encrypt your traffic. This is the key reason why proxies are generally faster than VPN. As a result, using a proxy will let you enjoy better download/upload speeds when compared to VPN.
How can I set up and use Smartproxy proxies?
Simply access our dashboard using the start guide. In case you run into any problem, don't hesitate to review our resources or drop a line to our customer support team.
What should I consider before buying proxies?
We've drawn up this handy checklist so that you'd know what you should pay attention to before choosing proxies:
Traffic – think about how much traffic you're gonna need so that it'd be easier to decide what pricing model (based on traffic or the number of requests) would suit you most.
Proxy pool size – check how many IP addresses are on offer and what the quality of those IPs is. Think of some extra details too, e.g. proxy speed.
Locations – do you have access to country- or city-specific ports, or both? How many countries does a proxy network cover?
Pricing – don't get easily seduced by free proxies as they possess some cybersecurity risks and perform poorly. Always look for reasonably-priced proxies from reliable providers.
Customer support – make sure your proxy provider has unwavering customer support in case you run into any trouble.