Proxy Network With Unlimited Proxies
Use our proxy network without limits.
Make as many connection requests as you need right now! Stop limiting yourself.
Advanced proxy rotation

No setup fee

65M+ residential, mobile, and datacenter IPs

Lit 24/7 support

No connection limits

Monthly pricing plans

Pay As You Go option
How our unlimited proxy network works
Need to use MANY proxies? You're in the right place. Use our network to access more than 65 million residential, mobile, or datacenter IPs at any time! We never limit connection requests, so you can connect to as many proxies as you need.
Unlimited proxy network
Our advanced server technologies let you send as many connections as you need. Both residential and datacenter proxies have backconnect nodes for unlimited connections.
Proxies are rotating, so every connection request gets a new IP address. You can also use sticky IP sessions to keep an IP for a longer time.
Scrape data efficiently
Make scraping faster with unlimited rotating proxies. Use rotating sessions to get a new IP for each connection and stay undetected.
Unlimited sneaker bot tasks
Forget about counting proxies and start using unlimited tasks with sneaker bots. With us you always have enough proxies.
Web crawl faster
Use our whole IP pool if you need – crawl any website faster than ever before!
With our anonymous proxy network you will be:
Flexible
Use high anonymity HTTP proxies with any device – see our configurations page to set up proxies on any browser or device.

Unlimited
Each plan lets you use the whole proxy network and comes with a monthly auto-renewable subscription. Payments are made once a month at the beginning of every billing cycle. Or you can choose the usage-based Pay As You Go option and use residential proxies without buying a subscription. Enterprise plans are available via LiveChat.
Fast
We are using the best high anonymity proxy server technologies that optimize your connection speed, privacy and proxy performance beyond anything else in the market.
Unblocked
Use a simple backconnect node to target HTTP IPs in any location on the planet. Geo-targeting with our proxy network is a breeze!
What you get by choosing Smartproxy

24/7 support
We are here to >help you in any way we can via LiveChat.
Choose any location
Worldwide coverage with our top-notch residential and datacenter proxies.

Top quality
99.99% uptime, high speed and industry-leading anonymous HTTP proxy performance.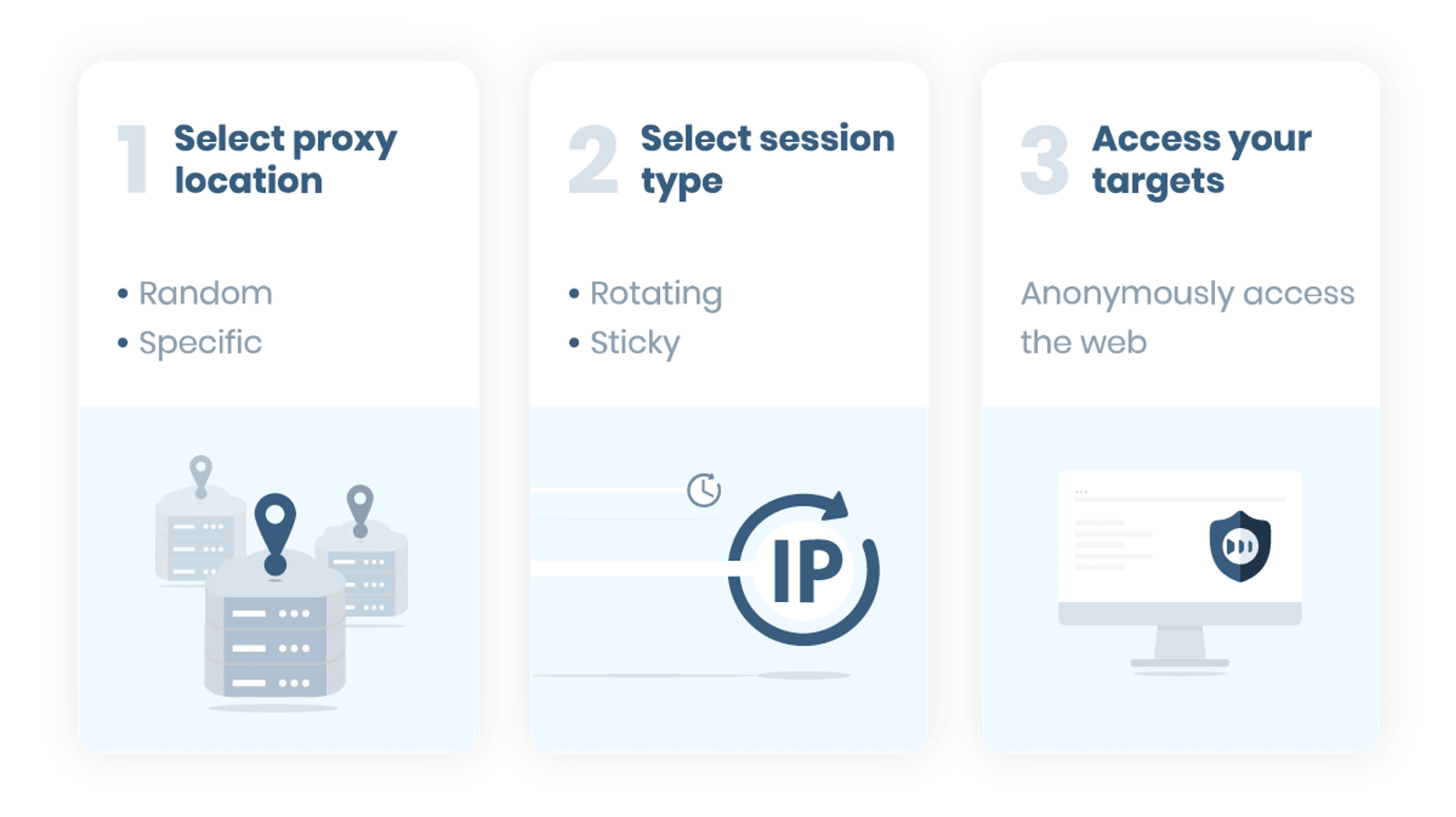 How our unlimited proxy network works
1. Select proxy location
Random IP – get a random IP from the whole pool. Geo-targeting – get an IP from a specific country or city.
2. Select session type
Rotating – rotates IP on every new request. Sticky – keeps the same IP for a longer period.
3. Access any target!
Your requests will be routed through real desktop and mobile devices when accessing the web.
Get proxies now. You're 100% safe!
Enjoy maximum performance without any pressure. Buy any of our proxy plans and take up to 14 days to decide. If you're not impressed, we'll refund you (terms apply).
Fastest residential proxies
Pick a plan that suits you. Get ahead with unblockable and stable proxies.
With each plan you access
55M+ ethically-sourced IPs
HTTPS & SOCKS5 support
99.47% success rate
24/7 tech support
Unlimited concurrent sessions
Country & city-level targeting
<0.6s average response time
Rotating and sticky sessions
SSL Secure Payment
Your information is protected by 256-bit SSL
What people are saying about us
We're thrilled to have the support of our 50K+ clients and the industry's best
Clients
Awards
Industry experts
Featured in: