Unlock Growth and Tame All Multi-Accounting Hassles
Create and manage multiple social media & eCommerce accounts, access local content, and avoid IP bans or CAPTCHAs without breaking a sweat.
 65M+ ethically-sourced IPs
ASN, OS & country-level targeting
What is multi-accounting?
Multi-accounting is a process of creating and using multiple accounts on various social media or eCommerce platforms. By managing multiple accounts, individuals or businesses can tailor their content, engage with specific audiences, and maintain distinct online identities.
Social media accounts A/B testing
Customize social media and eCommerce strategies to suit the needs of specific target markets or regions and find the best-performing approach.
Create and manage multiple accounts
Have an account for each of your brands, separate personal and professional profiles, and run automation tools without facing IP bans or CAPTCHAs.
Avoid geo-restrictions
Create accounts for each region you're working in to access the content only available in specific countries.
Top targets for multi-accounting
Advanced anti-bot tools and CAPTCHAs make it harder to access social media platforms if you use multiple accounts? Our solutions are here to help you access the most popular targets online with an amazing 99.47% success rate.
Discord
Access content in restricted locations and boost your server without a single hassle with residential or mobile proxies.
GitHub
Forget annoying messages like "couldn't resolve host" when you are busy pushing or pulling a repository from GitHub.
Youtube
Watch videos without a single hassle and stay up to date with relevant data.
Soundcloud
Get all the data you need from Soundcloud and don't miss a beat, literally.
Multi-accounting made easy with intuitive solutions by Smartproxy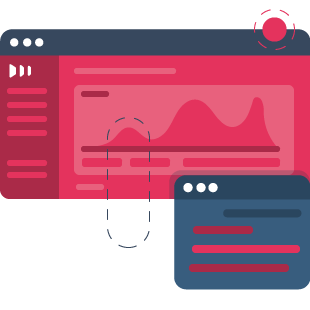 Kickstart your proxying journey in seconds
Our user-friendly dashboard allows you to view all the key usage statistics, like traffic and most popular targets, at a glance. Whitelist IPs, add new users, and upgrade your toolbox in just a few clicks.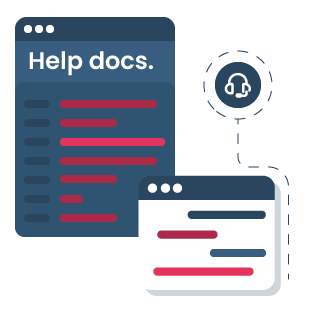 Extensive documentation, setup guides, and code samples library
Whether you're new to the proxy world or a seasoned user, there's a knowledge library to set you up for success. Get started with our quick start guide, browse developer-friendly documentation, or drop us a line – we're available 24/7 through live chat.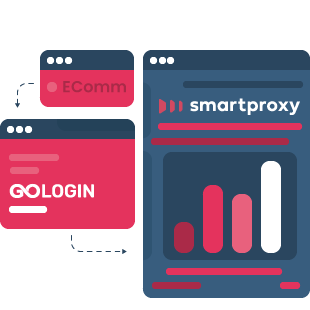 Simple integration with third-party tools
Combine your ultimate multi-accounting toolbox by integrating popular tools like GoLogin, PVA Accounts, and others with our residential proxies. Just a few easy steps, and you're ready to take over the competition.
Recommended products for multi-accounting
Recommended
Sticky & rotating sessions
Equip residential proxies and add an additional security layer by masking your original IP address. Each IP comes from a real residential device connected to a local network, making it hard for anti-bot software to detect automation & multi-accounting tools.
A cutting-edge solution that helps to enhance your online browsing and web data collection experience. Enjoy the highest success rate amongst all proxies and leverage advanced targeting to choose IPs that perfectly match your multiple accounts.
Equip X Browser and manage your multiple profiles even faster
Social media & eCommerce multi-accounting just got easier with Smartproxy's X Browser.
Unique profile fingerprints
Each profile will get a unique fingerprint making it hard for trackers to trace original information about you. 
Easy profile management
Manage cookies and sessions for each browser profile independently. Keep an open profile or put your information under a lock.
Avoid CAPTCHAs and IP bans
Each X Browser profile is identified as a real person, making it easy to hop around various anti-bot restrictions.
Intuitive setup
Forget going through a list of steps to change your browser's profile. Just a simple X Browser click will do the magic for you.
What people are saying about us
We're thrilled to have the support of our 50K+ clients and the industry's best
Praised for the exceptional standards of security, anonymity and ethical IP sourcing practices.
Recognized 3 years in a row for premium quality products with the best entry point.
Awarded for the most user-friendly way to access local data anywhere successfully.
Featured in:
Frequently asked questions
What is a browser fingerprint?
A browser fingerprint is a unique identifier that can be created based on the information collected from your web browser and its history. Just like our fingerprints are unique to each person, browser fingerprints are unique to each device and browser combination. It's a way for websites and online services to recognize and remember you when you visit them.
How do platforms detect multiple profiles?
Platforms employ various methods to detect the use of multiple profiles. Here're the most common ways social media & eCommerce platforms detect multiple accounts:
Analyzing IP addresses associated with user accounts. If multiple accounts are found to be linked to the same IP address, it indicates that the user might be breaching the Terms & Conditions of the platform. However, it's worth noting that IP addresses alone aren't always conclusive evidence, as they can be shared among multiple users in certain scenarios, such as public Wi-Fi networks.
Device and browser fingerprints allow platforms to analyze device and browser information to detect multiple profiles. They look for patterns and similarities in factors like operating system, browser version, screen resolution, and more. The platform might push a CAPTCHA or IP ban if several accounts share identical or extremely similar fingerprints.
Behavioral analysis, like tracking login times, usage patterns, interaction history, and other specifics, might allow website anti-bot systems to identify multiple accounting patterns.
Cross-referencechecks can include checking email addresses, phone numbers, or other unique identifiers associated with user accounts. By comparing such information, they can identify instances where the exact details are linked to different profiles.
Where are multiple accounts usually used?
Individuals and businesses use multiple accounting to manage different brands' accounts on social media, run automation software, access region-specific content and avoid CAPTCHAs or IP bans. Users create multiple accounts on platforms with advanced anti-bot systems.