October 09, 2023
10 minutes read
How to Manage Multiple Accounts on Reddit: A Comprehensive Guide
Reddit is one of the biggest social media platforms out there. It has established itself online as a vibrant hub for sharing content, discussions, building communities, and posting cat memes. According to the latest data, the website attracts over 430 million users worldwide every month, and about 57 million visit the website daily. That's a lot of people looking at cat memes.
Many Redditors create multiple accounts to participate in different communities, and it's important for a business to understand why they should also consider doing so as well. However, many challenges come with it, such as risks of IP bans, privacy and anonymity concerns, and management difficulties without proper tools. 
Luckily, Smartproxy offers an amazing solution called the X Browser. It's a browser that enhances your privacy and allows you to run multiple sessions at once, making it perfect for seamless multiple account management. It's very easy to set it up, get started, and begin using it right away.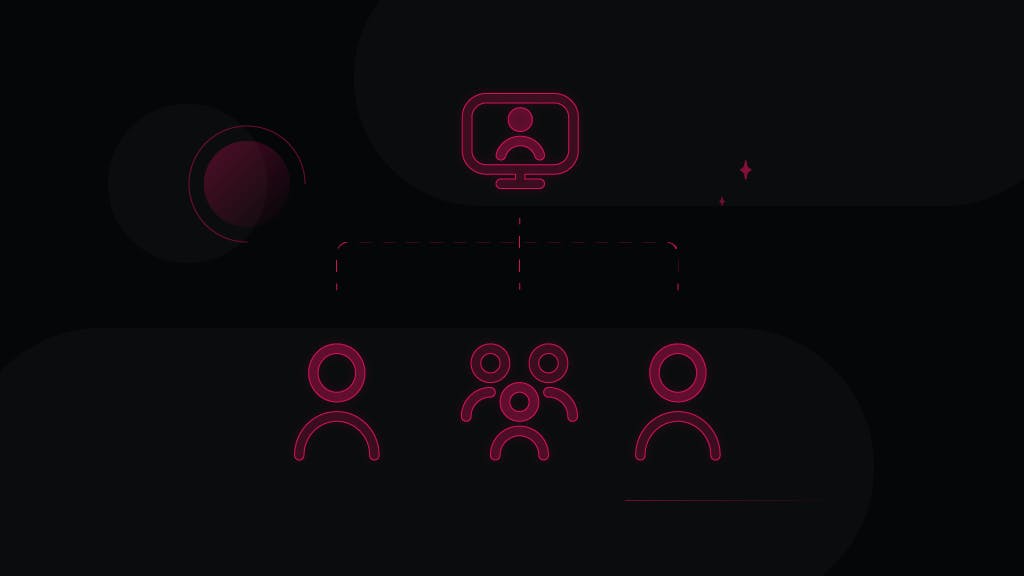 Blog

>

How to Manage Multiple Accounts on Reddit: A Comprehensive Guide
The need for multiple Reddit accounts
There're many reasons to have several accounts, both for personal and professional use cases. If you like browsing Reddit in your free time, having the ability to switch accounts with tools like Reddit Enhancement Suite is helpful to separate your different interests. You can post things on your main account while having a second account for other interests that you might not be very proud to share. 
On a professional level, Reddit is a powerful tool to help gain traction and reach a larger audience for your brand. Having several accounts is crucial to achieving this, as it lets you participate in multiple communities and discussions without looking like a single corporate account trying to promote itself. The website's community hates that, and authenticity is vital to success on the platform.
Challenges of managing multiple Reddit accounts
Reddit is one of the few social media platforms that allows the use and creation of as many accounts as you want on a single IP address. However, as with most things, if it sounds too good to be true, it probably is. Here're a few reasons why using more than one account can be a challenge:
Bans are IP-based, meaning that if one account gets banned, every other account from the same address also gets nuked;
Your activity is logged across all connected accounts, which makes it hard to maintain complete anonymity and privacy;
You can't be logged into multiple Reddit accounts at a time on a single browser, requiring you to run several browsers if you want to switch between them frequently;
Subreddits are communities with their own set of rules, and you may be allowed to do a thing in one community, but it might not be allowed in another and can get you banned from it. Having another account can help you circumvent this and continue participating in that community (and this time, playing by the rules!).
The best solution to overcoming these problems is proxy servers. A proxy server acts as an intermediary between you and the target website, which helps you access it indirectly, hiding your identity and location and making it seem like different people are managing these accounts from various locations worldwide. With X Browser, achieving this is a piece of cake.
Introducing X Browser by Smartproxy
The X Browser is a powerful tool for simultaneous account management. It works exactly as any other browser but enhances your security through proxy rotation and location spoofing, making it a safe way to use the internet anonymously and undetected. You can also run multiple sessions simultaneously and switch between them very quickly, allowing you to use several accounts at once.
Every session creates a new, unique fingerprint that represents a different identity and makes you look like a real person while keeping your personal information completely anonymous. It's also fully integrated with your Smartproxy account, allowing you to use the same usernames and plans and track your data usage and other statistics.
Regardless of whether you have experience with using proxies or are a completely fresh user, the browser's simplicity and user-friendly interface allow you to configure various settings and surf the web with ease.
Set up X Browser for Reddit
Installing and setting up the X Browser is quick and straightforward; you can start using it in just a few minutes.
1. Download the X Browser from the Smartproxy dashboard.
2. Install the application.
3. Click Login with browser. A browser window will open where you'll have to enter your username and password and sign in to the dashboard. 
4. Click Login to X Browser. You'll be taken back to the application.
5. In the main X Browser window, you can create and manage different sessions and see their status and information. You can think of sessions as different entities, each with its own unique IP address, location, and operating system information, as if they were run by different people worldwide.
6. You can test how the X Browser works by clicking Quick connect, or if you want to immediately start setting it up for managing multiple accounts, click New profile.
7. In the Create profile sidebar, enter the following settings:
Profile name. Enter a unique name for your profile. It can be anything you like, so make it easy to identify and remember, for example, the account name that you'll be using in this session.
Proxy type. Select a proxy type. Residential and mobile proxies are the best solution as they have the lowest risk of being detected and blocked; however, if you aren't planning on doing any heavy automation with scripts or bots, datacenter proxies are a much cheaper solution that will work just fine.
Proxy user. Select the one you want to use.
Location. The location you want your connection to appear from.
Session type. Pick a session type and length. For manually browsing Reddit, it's best to pick a rotating session that will help you avoid running into CAPTCHAs trying to verify if you are a robot.
Platform, screen size, and language. These are fingerprint parameters that give more unique details to your session. Configure it according to your needs, or leave it at default if you have no preference.
Default website. The website that should be opened whenever you start the session. This is a convenient feature to always open Reddit or a specific subreddit.
Description. A custom description for this profile will help you remember its purpose. You can also use it as a shopping list. The possibilities are endless.
8. After you're done filling in all the settings, click Create profile. You'll see your newly created profile on the main page.
9. Hover over the newly created profile and click Start session under the Status column. A new browser tab will open.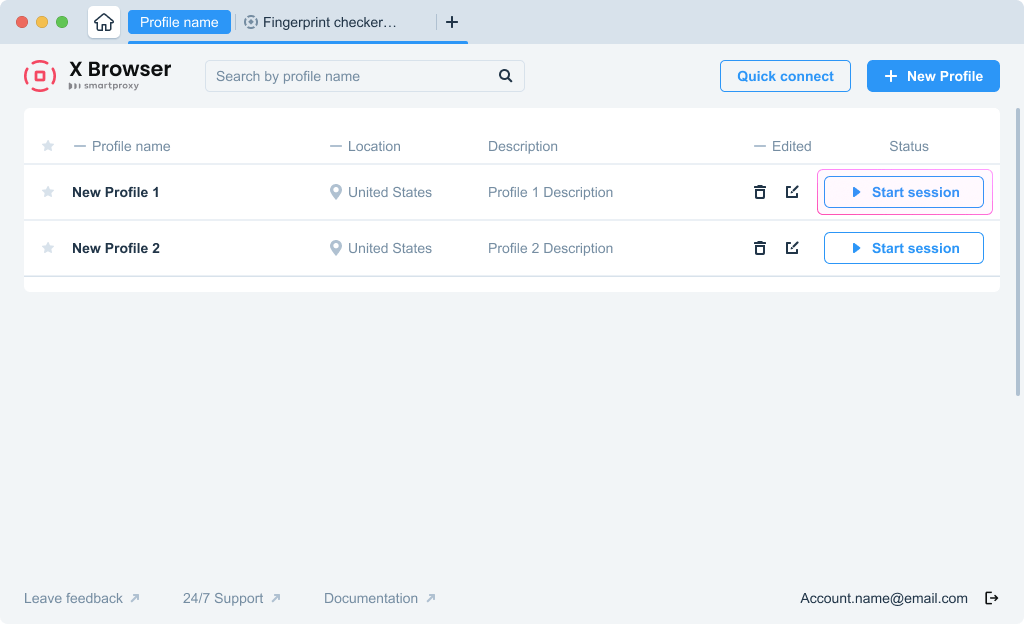 10. Navigate to Reddit, log in to an account, or make a new one. Remember that you can only create one account if you use Google or Apple ID, so it's better to create one using an email address.
11. You're now browsing Reddit through a proxy. You can click the fingerprint icon located in the top right corner of the X Browser window that'll open a page showing your connection information, such as your IP address, country, and what sort of information the website can see about you.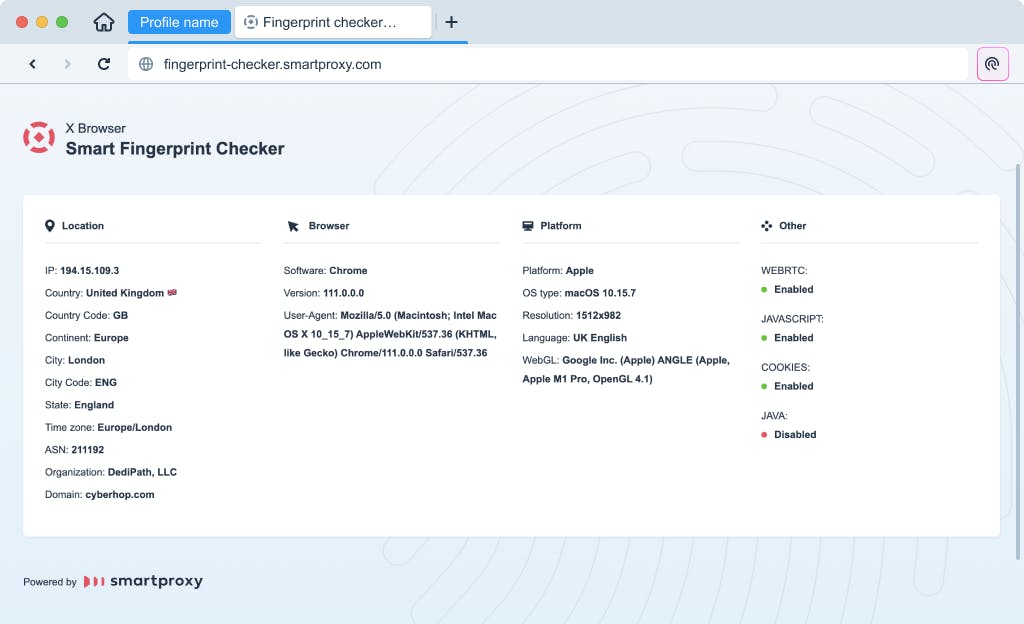 12. Return to the main window and repeat steps 7-10 to add multiple accounts and run multiple sessions at once. Each one will appear in a different tab and act as a separate entity that cannot be connected to another.
That's it! You're now managing several different accounts through one application. Each connection is unique, and you can easily switch between them simply by opening them in another X Browser tab. When you want to end a session, return to the main window and click Stop under Status. Your login information will be saved for the next time so you can jump right back in.
Manage Reddit accounts effectively
You've set up X Browser and can now manage multiple accounts at the same time. However, it's important to remember the following tips:
Make sure your accounts are running on different profiles. Don't use the same profile to sign in to different connected accounts; it can help Reddit identify and link them together;
Use different settings for each profile. These include different countries, operating systems, resolutions, etc.;
Set the session type to rotating. This will help you avoid running into frequent CAPTCHAs;
Set the profile's default website to where you want to start. This can be Reddit's login page, search results, or a subreddit for you to open faster whenever you connect.
On top of that, it's important to understand Reddit's rules and how you should behave on the platform:
Follow Reddit's content policy and user agreement. Read them carefully and make sure not to break any of these rules;
Follow specific subreddit rules. Each community is a separate world from the rest of Reddit. They have their rules and moderators that enforce them, and you have to follow them if you want to avoid getting banned from that subreddit; 
Build communities and relationships. Reddit is a place that promotes valuable and engaging content and wishes that people do their best to contribute to their community. Do your best to comment, participate in conversations and discussions, and post interesting opinions and content that people would want to engage with;
Don't sell or advertise. Directly promoting your business or spamming advertisements is a one-way ticket to a bad reputation and getting banned from most subreddits. Keep your posts sincere and human-like, and build your brand by being a friendly, helpful face in the community instead of constantly promoting your products and services.
Conclusion
Managing multiple accounts on Reddit may seem challenging at first, but it's a very easy process that offers many benefits for your personal or professional use. The X Browser tool makes this even easier to do while also providing you with increased security and privacy. 
Start managing your Reddit accounts without any hassle with Smartproxy!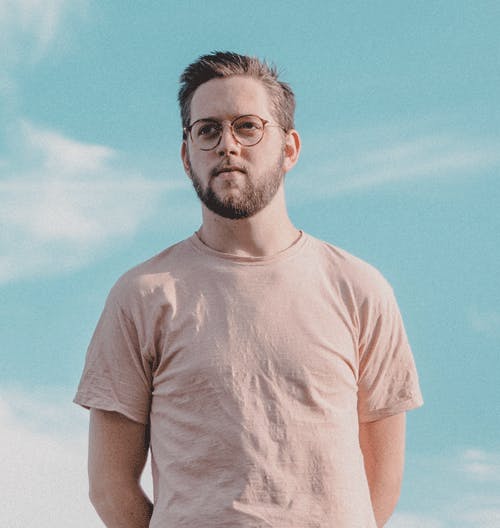 The automation and anonymity evangelist at Smartproxy. He believes in data freedom and everyone's right to become a self-starter. James is here to share knowledge and help you succeed with residential proxies.
Frequently asked questions
Can I have multiple accounts on Reddit?
Unlike other popular social media platforms, Reddit allows its users to have several accounts, even without using a different email address. However, you can only create one account if you use the Google or Apple ID Single Sign-On (SSO) option.
Can I log into two Reddit accounts at once?
You can't be logged into two or more accounts at a time on a single browser. You can add multiple accounts and quickly switch accounts using Reddit Enhancement Suite, but you can't use them simultaneously. For every new account, you'd have to use a different browser or a multi-session tool like X Browser to manage multiple sessions at once.
How to manage multiple accounts on Reddit?
To manage several accounts at the same time, you'll need to use a multi-session tool like X Browser that allows you to use several accounts at once. For full security and anonymity, you'll also need to set up a proxy for each connection.
How do I make an alternate Reddit account?
To create a new Reddit account, simply sign out of your current one by clicking on your username in the top right corner and then clicking on the Log Out button in the drop-down menu. Then click Log In in the same location you found your username, and at the bottom of the pop-up window, click Sign up. You can add multiple accounts without any limitations, even using the same email.