Most Wanted Residential Argentina Proxy
Join the proxy arena with our 893 105 residential IPs from Argentina! 
Choose geographic targeting for Buenos Aires, Córdoba, Rosario… You name it.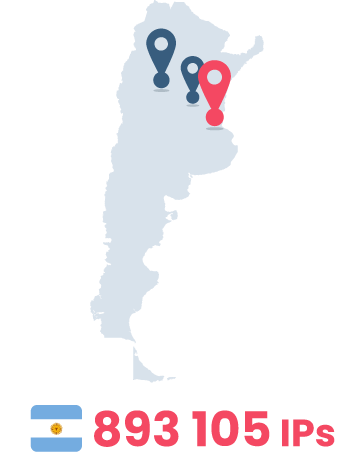 Real device IPs

Unlimited connections

99.99% uptime

0.61s avg response time

Proxy rotation

≤30 min. sticky sessions

24/7 support

Easy setup

Pay As You Go option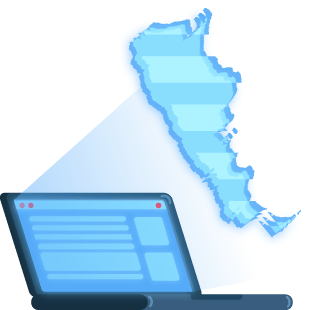 Your new Argentinian identity with an Argentinian IP
Are you fascinated by mountains, love eating beef dishes, dance tango, and play football (soccer if you're American)? Then, it's high time you place yourself among your kind in Argentina!
Our residential proxies will let you connect to any website with an Argentinian IP address. And the target website won't even notice that you're only virtually in Argentina…
There's no alternative to Argentinian proxies if you're trying to scrape and mine local data, research the market, work on ad verification, automate social media accounts, or something else. So you better get yourself an Argentinian residential proxy solution and do your business undetected.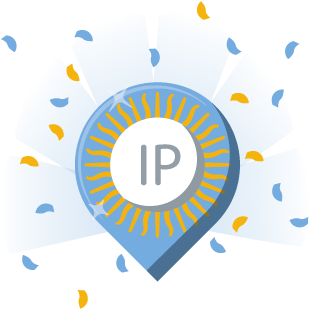 Residential Argentina proxy network
The population of Argentina ranks third in South America, behind Brazil and Colombia. And All IP addresses in our residential Argentina proxy pool come from real desktop or mobile devices – real people from Argentina. So you will seem like a regular Argentinian citizen to anyone looking at you. We offer Argentinian IPs in such major cities as Buenos Aires, Córdoba, Rosario, and others. Trust that these IP addresses don't share any subnetwork and are extremely hard to block or flag. 
Payment made simple
Payments can be made once a month at the beginning of every billing cycle, or you can choose the usage-based Pay As You Go option. In the latter case, you can use residential proxies without committing to a subscription.
By the way, you can have unlimited concurrent connection requests, and if you ever run out of proxy bandwidth, simply upgrade your plan with just a few clicks!
How Argentinian residential proxies do the trick
Just kick it with Smartproxy Argentina proxies

Simply the bestest
Smartproxy is annually recognized as one of the top proxy providers available. Our trustworthiness is backed up by myriad online reviews we've received over the years from users all around the world. Rest assured that we provide the service we promise.

Painless setup
Our residential proxies are easy to set up and use. You can find the necessary information on installing and using the software in our documentation. Thanks to our step-by-step guides with screenshots, using proxies is a cakewalk!

Sonic fast
Smartproxy proxies won't waste your time. We're proud to say that the average response time of our residential proxies is the best in the market – less than half a second. Oh, and with an industry-leading 99.47% success rate!

14-day money-back
Enjoy maximum performance without any pressure. Buy any of our proxy plans and take up to 14 days to decide. If you're not impressed, we'll refund you (terms apply).
Residential proxies are full of awesomeness

Unlimited connections and threads

55M+ rotating IPs
IPv4, HTTPS addresses

Over 195 countries

Easy proxy setup
Real mobile and desktop devices IPs

Awesome 24/7 customer support

0.61s avg response time

Up to 30 min. sticky sessions
Traffic usage statistics
Why free Argentinian proxies are not to be trusted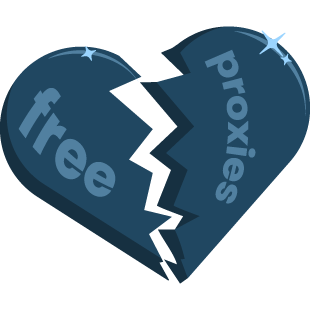 Communism is probably… like, um… a brilliant idea? Well, the world is still working hard on coming up with a functional version of it. Until that day comes, using a free Argentina proxy service is a risk you don't need in your life. Free proxies may harvest and leak your data. Furthermore, such proxies have a low success rate, are slow and easily recognized by the targeted websites. Therefore, we recommend avoiding free Argentina proxies at all costs.
Instead, why not enjoy a reputable, secure, and fast proxy solution that also provides 24/7 customer support? Smartproxy Argentina proxy network offers the best bang for your buck!
Target Argentinian destinations with Smartproxy products
Product Type
HTTP, HTTPS and IPv4+IPv6
Residential
Yes, from 1 up to 10 or 30 min
Username: Password; IP whitelist
SERP Scraping API
Web Scraping API
eCommerce Scraping API
No-Code Scraper
Real residential IPs worldwide
Fastest residential proxies
Pick a plan that suits you. Get ahead with unblockable and stable proxies.
With each plan you access
55M+ ethically-sourced IPs
HTTPS & SOCKS5 support
99.47% success rate
24/7 tech support
Unlimited concurrent sessions
Country & city-level targeting
<0.6s average response time
Rotating and sticky sessions
SSL Secure Payment
Your information is protected by 256-bit SSL
What people are saying about us
We're thrilled to have the support of our 50K+ clients and the industry's best
Clients
Awards
Industry experts
Featured in:
Frequently asked questions about residential Argentina proxies
What is a residential proxy?
In general, a proxy is an intermediary server that allows the user to browse the internet privately under a different IP address than the user originally has. A residential proxy allows the user to get an IP address of a real household device located in another city or country. Since residential proxies come from an ISP (Internet Service Provider), the core benefit is high anonymity and low block rate.
Can I anonymously use multiple residential proxies?
Yes, you can use multiple residential proxies by keeping the same gateway address but changing the port numbers. As for anonymity, you will not be tracked, and your private data will not be seen or used by third parties.
How to get an Argentinian IP?
You can use our residential proxies to get an IP address from Argentina. With the Smartproxy residential IP pool, you can pick a place and enjoy city-level targeting. Argentinian IPs are easy to set up, and we've got detailed instructions in our documentation.
Is it legal to use Argentina proxies and proxies in Argentina?
Yes, it's legal to use Argentina proxies. You can use proxies for scraping, ad verification, SEO, social media accounts management, bot automation, etc. However, proxies will not protect one from detection if they commit a crime online. Before scraping a website, make sure to read the Terms of Service and robots.txt. And we do have some boundaries regarding certain websites.