May 21, 2021
2 minutes read
Unblock Instagram With a Proxy
Everyone has opinions on Instagram. Sometimes it's like a rabbit hole consuming all of our free time. Sometimes it's a place where people can express creativity and earn a few bucks. Ultimately, Instagram's popularity can't be denied. Based on global advertising numbers, the platform has over 1.3 billion users. In fact, Instagram is so popular that Instagramming is an official verb.
But there's also another side of Instagram. Imagine this – you open your Instagram app and log in. You start liking, commenting, or even posting various pics. You follow a couple of accounts, and the next thing you know – your account gets blocked.
Lemme tell ya – it's not the worst-case scenario. In some locations, you can't even open the app! While it may sound confusing, not everyone can access Instagram because of geo-restrictions.
Whatever the reason, Instagram blocks even the best of us. But we got you – if you're blocked and can't use all or some of the app functions, there're a couple of ways to deal with it, for example, using Instagram proxy. But we won't spill all the secrets right away – continue reading to learn more!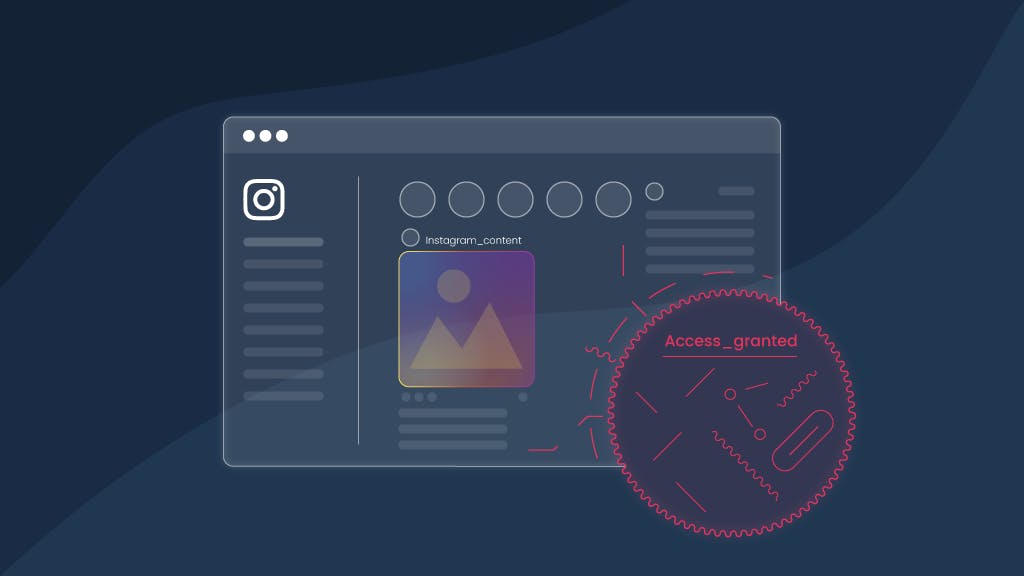 Blog

>

Unblock Instagram With a Proxy
What are the types of blocks on Instagram?
Instagram has different types of blocks it rewards users who violate its terms. The main differences between them are why the block happened and how long your account will be restricted.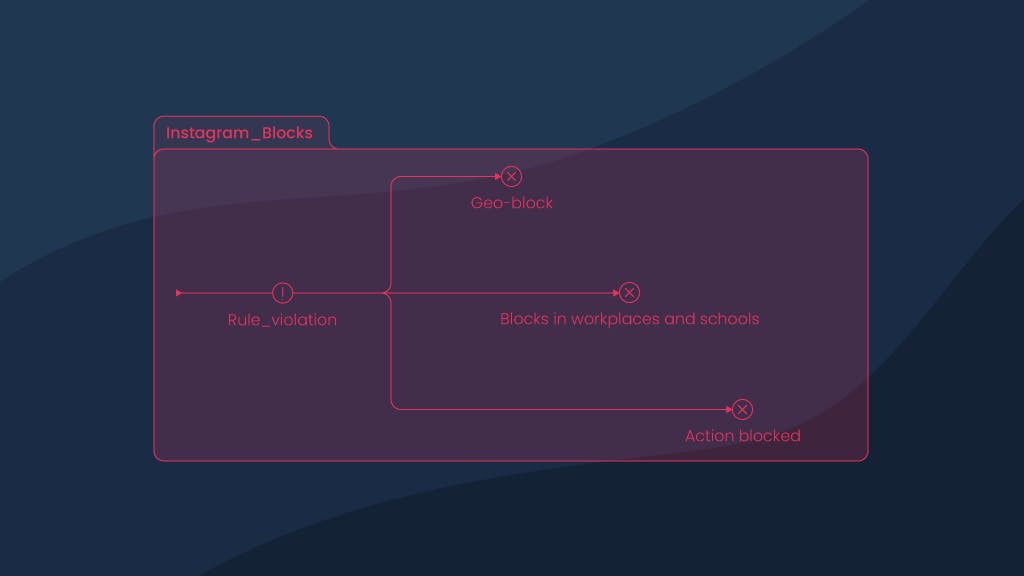 Geo-block
Some countries restrict access to social media sites, including Instagram. Geo-blocking mostly happens for political and censorship reasons. It's a strict and frustrating limitation stopping you from scrolling the feed.
However, we're all about the freedom to choose whether you want to spend time on social media platforms. And luckily enough, we've got a solution for the issue – proxies for social media. But we're goin' to talk about it in a sec!
Blocks in workplaces and schools
OK, imagine, you've got some stuff to do. So, you sit next to the computer or a book. But before you roll your sleeves and get to work, you decide to check what's happening on Insta.
And you instantly get into the secret time machine. You watch some of the stories, like a few posts, share a couple of Reels with your friends, and BOOM – thirty minutes have already passed without you even noticing.
Yeah, been there, done that. You feel the pain, and we feel the pain. Some workplaces, schools, and libraries do it too. That's why they made accessing Instagram through their devices impossible.
However, some situations where you need to use Instagram exist. And so do the ways to hop around the restrictions.
Action blocked
Here's the thing. If you tryna boost your followers by going crazy with comments, likes, follows, and unfollows in a short period, you're putting yourself and your Instagram account at risk. Instagram sees these actions as abusive and spammy behavior. And boy, oh boy, Instagram loves to restrict these kinds of spammy accounts.
To protect the app and community, Instagram blocks you and pops the "Action Blocked" error message.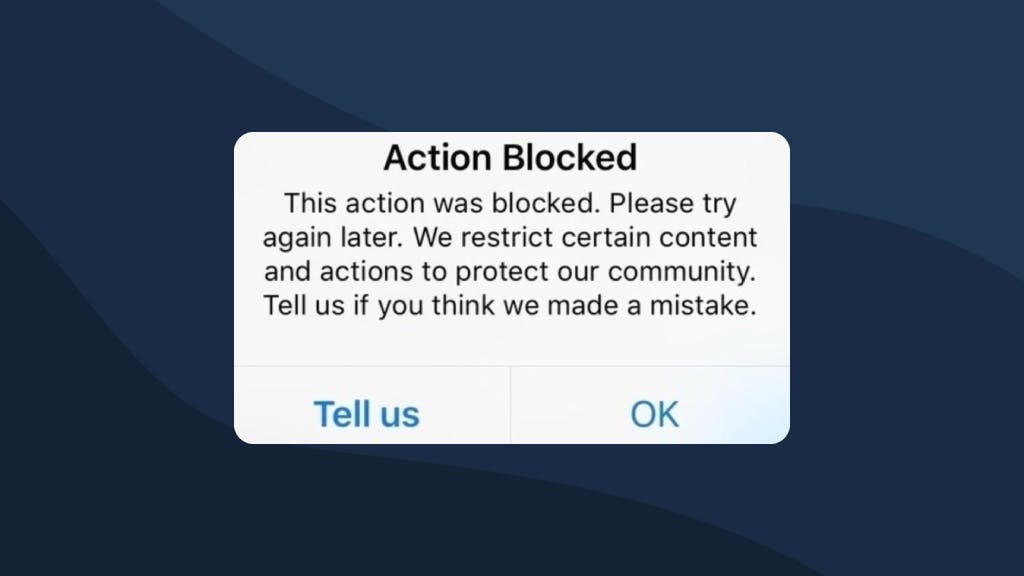 How long will my Instagram account be restricted?
Instagram got you in a headlock, but don't freak out - there's probably a way to wriggle out of it, depending on how deep you got yourself in trouble.
Temporary block
This type of block is the most common action block on Insta. You can look at it as a cool-down measure – you get it if you break some rules on Instagram. Usually, the temporary block takes up from a few hours to 48 hours.
Action block with an expiration date
The name speaks for itself – this kind of block gives ya an expiration date. If a block shows you when it ends, the good news is, it's not a severe block. You probably just went against  Instagram's guidelines. It may last from 24 hours to a month, and you'll be ready to use your personal Instagram account after, as per usual.
Action block without an expiration date
Welp, this type of block doesn't give ya the expiration date. In addition, it usually doesn't have the "Tell us" button either. It happens for very similar reasons as the previous types. You may not be able to use some of Instagram's functions for up to two weeks.
Permanent Instagram action block
Now this is serious. A permanent action block prevents you from performing certain actions indefinitely. It can happen if your account has been temporarily blocked several times or other app users report your profile. And unluckily, you can't remove this type of block. Yikes.
Disabled Instagram account
When you abuse the app features or community guidelines, you might get your account disabled. If you try to log in to your account and the message that your account was disabled pops up, you can follow the on-screen instructions and ask Instagram to review your account. However, you might not get a second chance if the platform's algorithms detect that you're buying followers, managing multiple accounts, using automation tools or bots.
IP address ban
The harshest restriction Instagram could award its users for continuous violations is blocking users' IP addresses. You won't be able to access social media accounts with your own IP address as the platform simply blocklisted it. To hop around the ban, you'll need to look for a trusted proxy service (*cough*Smartproxy*cough*).
How to avoid getting blocked?
To keep yourself from getting blocked, you have to show the app you're not fake. So, don't leave your Instagram account empty. Post some pics, but don't do that simultaneously – post them one by one over time. You should also complete your account info, including your profile photo and bio.
Avoid liking, commenting, following too many users in a given time. Try not to use repetitive posts, emojis, and comments. You shouldn't mention other users in your posts and comments very often, also.
Oh, and one more thing. If you wanna like, comment, follow, or post on Instagram as much as you wish without getting blocked, try out a thing called Instagram automation. Such software allows you to mimic real person's actions on Instagram. Also, it can help you create Instagram bots – automated user profiles controlled by scripts, saving you hours of manual scrolling through the feed when managing multiple accounts. Of course, using bots increases your chances of getting blocked, but you can minimize the risk of pairing your tools with the best proxies.
And don't forget to follow community guidelines. It's your source on staying au courant with the latest updates from Instagram's camp.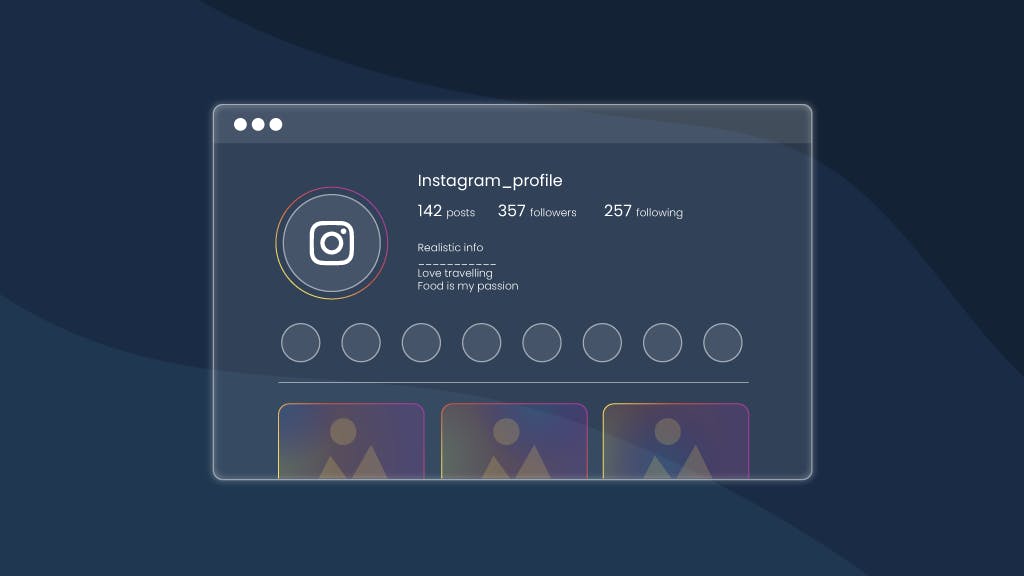 How can proxies help to unblock Instagram?
If you can no longer gain access to your account because of an Instagram ban, you may need to create a new account (another option would be to buy Instagram accounts). The problem is the block has most likely flagged your IP address. It means any new account will likely get an Instagram block too. So, what can you do about it?
There's a handy little helper called proxy. It changes your IP address, which means Instagram treats you like a brand-new user with zero suspicion. This IP can belong to any specific address anywhere in the world while helping you remain anonymous and safe. As you connect through it to Instagram, the app sees the given IP as your primary and allows you to perform the functions you want. If you use rotating residential proxies, you can even register multiple Instagram accounts without a single worry.
What proxy server should I choose?
The first step to unblocking an Instagram account is to equip high-quality Instagram proxies. It should be an IP address that looks like a real desktop or mobile device.
We recommend you use residential proxies with sticky IP sessions for Insta. These sessions let you use the same IP address for 1,10 or 30 minutes.
Residential Instagram proxies do wonders when you wanna manage multiple Instagram accounts. Hop around 195+ locations and watch those Reels the locals are cookin'. Residential proxies also help to verify ads. Sounds pretty handy, huh?
There's also another option that we've got in store. Mobile proxies allow you to equip IP addresses from real mobile devices connected to a cellular network. They've got the highest success rate as multiple users share the same IP address assigned by the internet service provider (ISP). So whether you're running an Instagram automation tool or just enjoy liking everything on the feed, mobile proxies will do the job right.
Dedicated datacenter proxies can be an optimal choice if you need a batch of IPs from US locations with a guaranteed steady and speedy performance. You can manage multiple social media accounts and verify ads without worry. However, as these proxies come from virtual machines, they're easier to detect by anti-proxy software, so it might not be the best fit if you're running automation tools.
And the best part is yet to be revealed – all of our proxies are extremely easy (like for real) to set up on any device! Don't believe it? Give it a go with a 14-day money-back option (terms apply), or reach out to our customer support team to find the best match for your use case!
How to scrape Instagram accounts without getting blocked?
You should know a few things when scraping public data like nicknames or bios on Instagram.
First off, don't risk using bots or automated tools, as these can flag your account and get you banned. Instead, use a reputable social media scraping tool. This software will provide reliable data in JSON format at a large scale by sending just one request. Equipping a scraping tool means you won't need to worry about setting up a proxy server, IP rotation, CAPTCHAs, and other time-consuming tasks. 
Conclusion
Insta can block you for various reasons (and sometimes even without one). You should remember to avoid spammy-looking behavior and rely on the proxy server in case you're about to use automation tools. But, if the ship has sailed, just like any other situation online, there's a way to get back access to your blocked account with the help of proxies.
Now that you know how to unblock Instagram account, go ahead and enjoy the full potential of social media!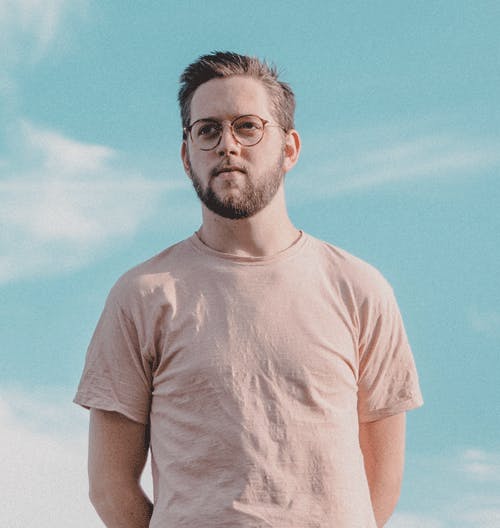 The automation and anonymity evangelist at Smartproxy. He believes in data freedom and everyone's right to become a self-starter. James is here to share knowledge and help you succeed with residential proxies.
Frequently asked questions
If you use a proxy, your connection goes through a proxy server. In other words, when you try to access a certain website, your connection request doesn't go directly to the website. Firstly, it goes through a proxy server. And it forwards your request to the website you're trying to reach. This way, your real IP address stays anonymous, and you can access the website you want.
What tools do Smartproxy's Instagram proxies compatible with?
Our residential Instagram proxies perform well with major Instagram bots and integrations: Follow Liker, PVACreator, Gram Multitool 2, and many more.
Can proxies help with an Instagram user's block?
The only way to access the profile of someone blocking you is by creating a new Instagram account.
How to engage on Instagram freely without getting blocked?
To like, comment, follow, or post on Instagram as much as you want without getting blocked, try out Instagram automation. It allows you to emulate a person's actions and enables you to create bots that are automated user profiles controlled by scripts, not people.
Can Instagram unblock an account automatically?
Depending on the restriction type, Instagram might unblock your account automatically after the cool-down period ends. Even after you gain back access to your account, algorithms will track your activities with more suspicion, so act and interact wisely!
Should I use a free proxy to unblock Instagram?
As tempting as free proxies might look, you should avoid them at all costs. Most free proxy providers don't allow HTTPS protocol, meaning that your connection to the server is not encrypted and might be exposed. Using such proxies, you might share your internet access, browsing history, cookies, and other personal information with malicious malware.
Free-of-charge ones usually perform poorly compared to paid proxies, and most websites have blocked freebies IPs as previous users have abused them.
Try out our top-notch residential proxies and stay anonymous with a 14-day money-back option (terms apply), totally risk-free!