Enjoy Full Anonymity and Security With California Proxies
Blazingly fast residential proxies from California (we talk about <0.6s average proxy speed!) and other US locations at your fingertips.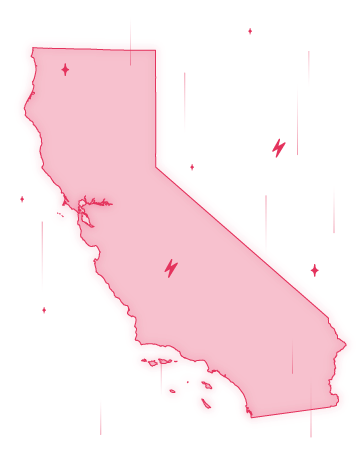 55M+ residential IPs

99.99% uptime

Advanced rotation

99.47% success rate
Why Smartproxy?

Ethically-sourced IPs
We don't like gray zones. That's why our proxies come from partners that collect consent from each IP owner. So you can stay safe online and sleep tight when thinking about your vetted proxies.

Spartan setup
See the stats like traffic usage, requests, and top targets, and activate your California proxies in our dash in just a few clicks. Or use our Chrome or Firefox extensions – that's an even faster way to start your proxying journey.

Advanced targeting
Connect to any location, including cities and US states, on our dash. Smartproxy IP pool covers 195+ locations around the globe, so you can choose a location endpoint of your desire.

We're here for you, 24/7
You're always first in line – whether you just want to ask a quick question or need some tech help, our team is ready to chat with you on our LiveChat.
California proxies that beat free ones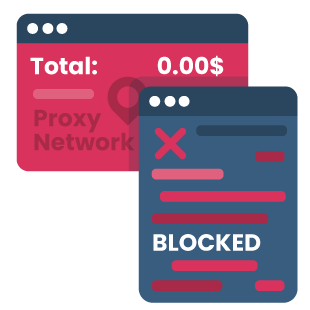 You're thinking of using a free proxy service? Well, we're here to warn you that those can be pretty risky. In fact, some of them might even steal your data.
But don't worry – we've got you covered with our top-notch residential US proxies. 
Smartproxy offers a secure HTTP(S)connection, so you don't have to stress about security or privacy. So why take unnecessary risks? Take our US proxies with a 14-day money-back option (terms apply)!
What people are saying about us
We're thrilled to have the support of our 50K+ clients and the industry's best
Praised for the exceptional standards of security, anonymity and ethical IP sourcing practices.
Recognized 3 years in a row for premium quality products with the best entry point.
Awarded for the most user-friendly way to access local data anywhere successfully.
Featured in:
Frequently asked questions about California proxies
A proxy acts as a middleman between your device and the internet, allowing you to access content that may otherwise be unavailable to you. It's like having a little helper who can tackle hurdles such as CAPTCHAs or IP blocks, thereby allowing you to access more public content. While connecting via proxy, you're routing your connection to its server, where another IP masks your original IP address. That's how the target website cannot block you, even though you're trying to connect from a different location or using an automation tool. 
What is a residential proxy?
A residential proxy is an IP address belonging to a real device, such as a computer or smartphone, connected to WiFi. Connecting via a residential proxy is like borrowing someone's internet connection to browse the web without actually physically being in the residential IP location. Businesses and individuals commonly use residential proxies for web scraping, ad verification, and market research.