Meet the Must-Try Israel Proxies
Accessing Jerusalem, Tel Aviv, or Haifa? Bypass geo-restrictions with top-notch Israeli proxies at reasonable prices.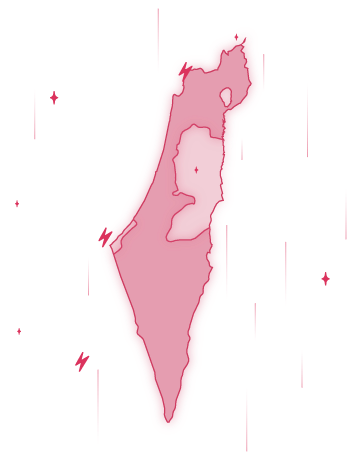 65M+ residential and mobile IPs

99.99% uptime

Advanced rotation

Intuitive setup
Why is Smartproxy the best choice?

Ethical proxy provider
Smartproxy takes your privacy seriously – our proxies adhere to GDPR standards and are sourced from ethical partners. So don't settle for sketchy proxy sellers; choose Smartproxy for the real deal.

User-friendly setup
Track your traffic, requests, and top targets with our easy-to-use dashboard. Activating Israel IPs is a breeze with just a few clicks using our free Chrome or Firefox extensions. We keep it simple!

City-level targeting
With Smartproxy IPs, you can conquer the world! Take your pick from 195+ locations and connect to any city, state, or country you desire.

24/7 customer support
Need a hand? Our tech support team is available round the clock. Shoot us a message, and we'll walk you through every step of the proxying process.
Choose the right Israel proxy type to elevate your online game
- Multiple accounts management
- Market intelligence
- Price comparison
- Multiple social media accounts management
- Ads verification & management
- App testing
- 195+ locations
- City-level targeting
- <0.6s response time
- 99.47% success rate
- Pay As You Go option
- 3G/4G/5G proxies
- 130+ locations
- OS filtering
- 700+ mobile carriers
- ASN and country-level targeting
What people are saying about us
We're thrilled to have the support of our 50K+ clients and the industry's experts
Praised for the exceptional standards of security, anonymity and ethical IP sourcing practices.
Recognized 3 years in a row for premium quality products with the best entry point.
Awarded for the most user-friendly way to access local data anywhere successfully.
Frequently asked questions about Israel proxies
A proxy acts as a mediator between your computer and the internet, receiving and verifying your requests before forwarding them to the online resource you want to access. The website only sees the IP address of the proxy server, shielding your identity and protecting your privacy. Proxies are helpful for accessing restricted content based on location, automating tasks, and enhancing your online security.
What is a residential proxy?
A residential proxy is an IP address provided by your Internet Service Provider (ISP) and utilizes real devices such as phones or computers to connect to the internet. Unlike datacenter proxies, which use IP addresses from data centers, residential proxies resemble regular users and are, therefore, more dependable and credible. Residential proxies are frequently used for web scraping, ad verification, and accessing restricted content in specific geographic areas.
A mobile proxy is a residential proxy that obtains an IP address through a mobile network carrier. Rather than using a computer, your internet traffic is directed through a mobile device, making it more difficult for websites and online services to detect. These proxies are highly dependable and trustworthy and are commonly used for web scraping, managing social media accounts, and ad verification.