August 01, 2023
7 minutes read
Instagram Error: Feedback Required… What to Do?
We know the story. You've been running around Instagram young, wild, and free until you got slapped with the infamous feedback_required error. Yep, it's a real pain in the rear how it stops you in your tracks and leaves you confused. But fear not – errors happen to the best of us. In this blog post, we'll explain the feedback required Instagram error and give tips on how to fix it and prevent it.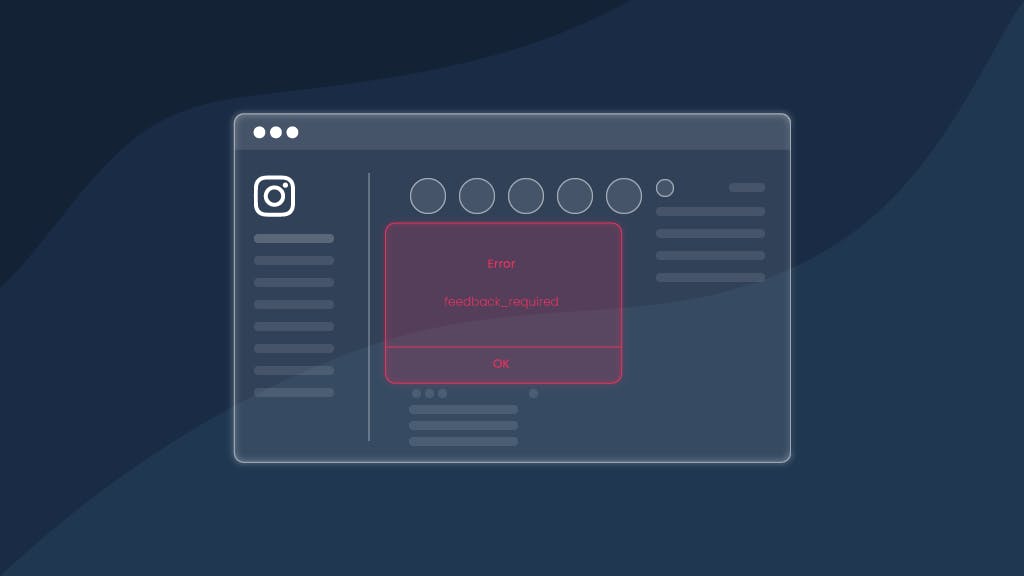 Blog

>

Instagram Error: Feedback Required… What to Do?
What does feedback required mean?
Generally, getting the feedback_required error means that something set off Instagram's anti-bot safety system. So, this error message pops up when Instagram automatically detects an account acting as a bot. Robot discrimination indeed knows no limits on the internet… But here's the thing – this error could point to a myriad of triggers because it shows up to real users, too.
The feedback required error is triggered if you're, for example, posting too many hashtags, partaking in spam, or just moving too fast for Instagram's liking. It's also known to appear when Instagram's server is down.
Note that there are a few other error messages that go with the same error, like "Sorry, we couldn't complete your request. Please try again in a moment". Another one is "Server error feedback required". So, if you see these messages, you'll know that the following remedies can help.
How to fix the feedback required error?
Let's move on to the burning question of how to solve this issue. When you're stricken by the feedback_required Instagram error, the first thing you can do is check whether Instagram's server is down by using one of many dedicated websites. If that's not the case, you can focus on solving the error from your end.
There are a few things you can try to fix the feedback required error on Instagram.
Go ahead and change your network connection. For instance, if you're on your phone, turn on mobile data instead of Wi-Fi and vice versa.
To clean the slate, you can clear out your cache data (also known as the Offload App action on iOS that you can find by going to Settings > General > iPhone Storage).
It's also a good idea to uninstall your Instagram app and install the latest version available at the Google Play Store or App Store.
Now, you should be able to use your Instagram account again!
How long may the feedback required error last?
If our suggestions in the previous section don't work or appeal to you, there's one last avenue you can take. Feedback_required is a temporary error, so you can simply wait it out without taking any specific actions. Instagram will eventually let you back in.
Usually, the feedback required error doesn't last long. It can take Instagram from a few minutes to a few hours to lift the ban from your account. In some cases, it could take as long as 24 hours. It all depends on why the error was triggered.
Ways to prevent the feedback required error
Really though, ain't nobody got time to wait for blocks to come and go. So, how do you prevent this error from ever happening in the first place? Here are a few things to consider.
If you're using bots or automation tools that could have triggered Instagram's anti-bot system, make sure to review them. Perhaps they're outdated, and you'll need to find a more advanced tool for next time.
Slow down your activity on the app. You'll seem less suspicious if you space out your moves, such as liking, following, posting, and commenting. Then, Instagram will be more welcoming of you.
If you find the previous bullet point insulting, then you should use proxies to prevent your IP address from getting flagged. Proxies can provide you with multiple new IP addresses that aren't associated with your Instagram account, making it harder for the platform to detect your activity as suspicious.
Actually, you're in the perfect place if you're after a decent Instagram proxy. They are crucial when using bots or automation tools, managing multiple accounts, trying to access geo-restricted content, and more. We've got some top-notch proxy options to choose from. Check out our Instagram proxies page to learn more.
Further tips for automation freaks
Are you using automation tools, bots, and scrapers on Instagram? Then, let's dive deeper into the strategies and techniques you could employ to prevent Instagram from detecting unusual activity and triggering the feedback required error.
How to mimic human behavior
Making the bot as human-like as possible is one of the most important steps in avoiding the feedback required error on Instagram. So, let's see how you can make your non-human tool bulletproof.
Interaction patterns. Try to imitate the actions of an average Instagram user. It's crucial to refrain from spammy actions like liking and commenting on numerous posts quickly. Act like a real person on Instagram by liking a few posts, leaving comments on a few posts, following a few users, and then pausing for a while before taking another action.
Adjust automation volume. You see, the amount of actions plays a significant role in triggering the feedback required Instagram error. So, set realistic limits on the number of actions your bot performs. Instead of liking, for example, a thousand posts in a day, limit the bot to liking a fraction of that.
Timing. Instagram restricts the number of actions carried out in a given time period. These limits may change depending on the account's age, activity, and other elements. By changing the timing of actions, you can mimic human behavior and evade detection. Spread the actions over a more extended period rather than liking 50 photos in seconds.
Content selection. Real app users are picky about the content they interact with, so be selective about the content that your bot interacts with. For instance, your bot could be set up to interact with content related to the account's interests or niche, or programmed to refrain from interacting with content that has low engagement rates or seems like spam.
Avoid repetition. If your bot performs the same actions repeatedly (only liking posts or commenting with the same message), Instagram may detect your activity as spam. Therefore, randomize your actions by varying the accounts you interact with and your messages, and thank us later.
User agents. A user agent is a piece of information that identifies your web browser or device. Instagram can identify when a bot logs into multiple accounts with the same user agent. So, use different user agents for each account to avoid detection. Use different web browser's user agents, such as Safari, Mozilla Firefox, or Google Chrome, to make it more challenging for the platform to identify you're using automation tools.
Use session cookies. Instagram authenticates user sessions with session cookies. You can prevent errors by incorporating session cookies into your bot. Ensure that the session cookies you use come from a legit Instagram account and that you keep them up to date.
IP addresses. The app can identify when a single IP address is utilized for multiple accounts. Avoid detection by using various IP addresses for multiple accounts. Good news – you can easily achieve this with a proxy or VPN service.
Proxies are a must
Mimicking human behavior can only go so far if you're not under a warm blanket of proxies. It's the most reliable way to prevent errors like feedback_required. Proxies throw Instagram off, and they'll find it more difficult to identify unusual activity. But note to use only dependable proxies. Your chosen proxy provider must have a solid reputation and a history of offering secure services (well, not to brag, but Smartproxy ticks all the boxes, by the way).
Use Instagram's API
Instagram offers an official API that allows developers to create applications that interact with the platform. Since Instagram can distinguish between API requests and requests from automation bots, using the API can help you avoid detection.
Make sure your program adheres to the API standards and recommendations when using the Instagram API. It's vital to ensure that the bot's behavior is consistent with human behavior so that you have a better chance of going undetected by Instagram.
Keep up with Instagram's guidelines
Instagram's rules and algorithms are always changing. To prevent the feedback_required error, stay current with the platform's guidelines. If Instagram changes the number of actions that can be carried out in a given period of time, then your next move should be to adhere to these restrictions for the best results.
Final thoughts
The feedback_required error is a common issue that many users encounter on Instagram. It can be annoying as hell, especially when you're in a hurry and have things to do. Luckily, there're ways to fix this error and prevent it from occurring.
Most often, slowing down your activity on Instagram will help you avoid the feedback required error. But better yet, look into a reputable proxy service, as it's seriously the way to go if you want to get rid of this obstacle in your path.
Just so you know, we've got the fastest 55M+ ethically-sourced residential proxies in the market that respond in <0.6 seconds. With them, you can enjoy the best entry point with the Pay As You Go payment option, country-, city-, and state-level targeting in 195+ locations, 99.47% success rate, and, of course, the smoothest self-service out there. If you bump into any issue, simply drop our 24/7 support a line.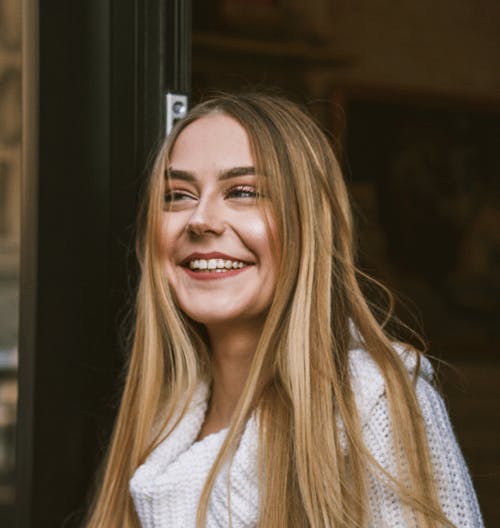 Ella's here to help you untangle the anonymous world of residential proxies to make your virtual life make sense. She believes there's nothing better than taking some time to share knowledge in this crazy fast-paced world.
Frequently asked questions
How to fix Instagram open proxy error (IP Ban)?
The Instagram open proxy error means that your IP address is blocklisted for being associated with too many inappropriate and abusive accounts. If that sounds nothing like you, turn off your router and contact your ISP (Internet Service Provider) as soon as possible to investigate the issue. Check out our detailed blog post to learn more about IP bans on Instagram.
How to fix Challenge Required error on Instagram?
The challenge_required error message indicates a security violation relating to bot activity on Instagram. It's possible that you received this error by mistake. So, to fix it, make sure to verify your ownership of the account, use the mobile app instead of the web version, and double-check that your internet connection is stable and secure.
How to fix the Action Blocked error on Instagram?
The Action Blocked error message appears when Instagram suspects foul play, such as using automation tools or bots, spamming, performing too many actions in a short amount of time, posting illegal content, getting reported by others, etc.
If you believe that you weren't in the wrong and would rather not wait for the block to pass (usually, 24-48 hours), you can try reporting the issue via Instagram's help center, reinstalling the Instagram app, logging in with another device, switching to mobile data instead of Wi-Fi, and completing your profile to look like a genuine account.
Related articles