Blog

>

How to Overcome Instagram Action Block Error
March 31, 2023
7 minutes read
How to Overcome Instagram Action Block Error?
So, you're happily scrolling through your Instagram feed, double-tapping your friends' photos and hilarious memes, and then suddenly… you can't take any further action. And that's, my buddy, how you know you've been hit with the dreaded error action blocked. 
As much as we love the Instagram app, there's no denying that action limits can be a major buzzkill. However, you don't need to worry – Instagram action blocks happen to the best of us, and there're sure ways to overcome them. So, fasten your seatbelt, and get ready to delve into everything you need to know about the action block error.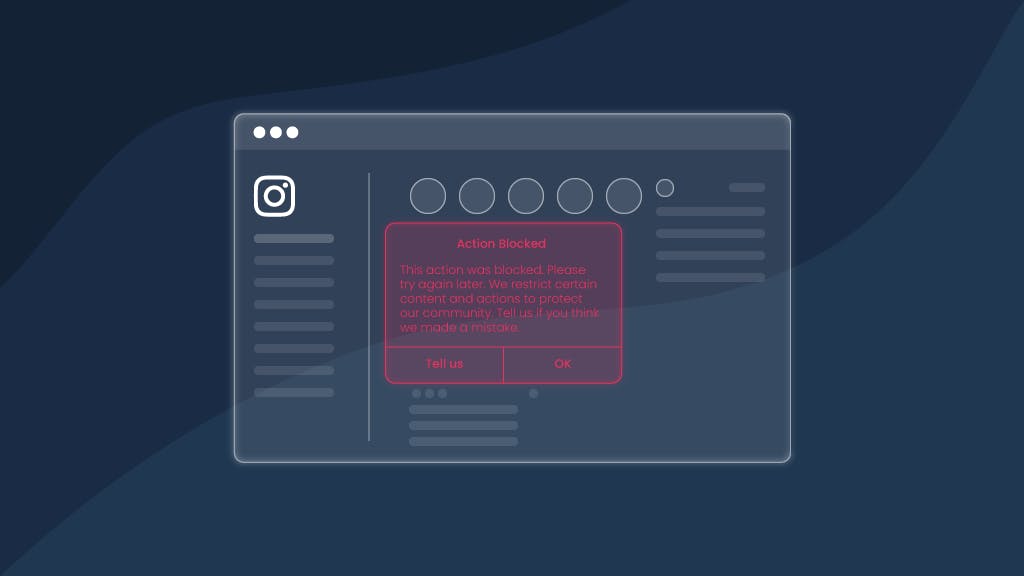 What is Instagram action block error?
In a nutshell, the action block error is Instagram's restriction on taking certain actions on your account, such as liking, commenting, following, or posting content.
Main triggers
An Instagram account can be blocked for various reasons, including:
Instagram restricts various actions, such as following/unfollowing methods with multiple apps, spamming the same message, or commenting the same message. Overperforming such activities may end up with your Instagram account being blocked.
Violating Instagram rules.
If you post prohibited content like fake news or hate speech, use banned hashtags, and more, you aren't following Instagram guidelines and policies. This will result in the platform restricting your Instagram profile and the use of the app. 
Account age & inactivity.
Newer or inactive Instagram accounts are a bit finicky and have more restrictions. Even if you perform a bunch of actions manually, the app may flag your activity as suspicious, so it's necessary to keep your activity low-key.
Misusing automation tools.
There're many ways to benefit from automation; however, not using third-party apps correctly can appear unnatural and suspicious. Instagram considers this behavior spammy and, as a result, may lead to the action blocked Instagram error.
Instagram's recent changes have thrown a curveball at multi-accounting. Users get the action block error for both automated and manual activities like following profiles and liking posts. It's possible that there is a new limit of 6,000 actions per 30 days, but some users get blocked with fewer actions.
Error message types
See, not all action block error messages are the same. Here're the main ones:
If you're hit with something similar to "You're Temporarily Blocked. It looks like you were misusing this feature by going too fast. You've been temporarily blocked from using it. We restrict certain content and actions to protect our community. Tell us if you think we made a mistake.", you've probably been punished due to violating Instagram Community Guidelines. You got the most common temporary block, which will expire in several to 24 hours. 
Action block with an expiration date.
"Action Blocked. Your account has been temporarily blocked from taking this Action. Sharing your account with a service that helps you get more likes or followers goes against our Community Guidelines. This block will expire on _. Tell us if you think we made a mistake.", "Error. We're sorry, but something went wrong. Please try again." and similar Instagram error messages can come from the app being down or from a violation of Community Guidelines. However, this one indicates when exactly the block will expire, and it may take from 24 to 48 hours.
Action block without an expiration date.
Here's when it gets interesting. If you get something like "Action Blocked. This action was blocked. Please try again later. We restrict certain content and actions to protect our community. Tell us if you think we made a mistake.", you won't know the expiration date of the block. It can last from several hours to weeks.
Permanent Instagram action block.
"Error. Your account has been disabled for violating our terms. Learn how you may be able to restore your account." kind of message means that your account has been permanently blocked.
How to avoid and prevent action block errors on Instagram?
The good news is, you can prevent and fix the Instagram action blocked error. Let us help you!
Prevention tips
Going full speed ahead when trying to grow your Instagram account can backfire real fast, so take your time while doing activities, such as liking, commenting, or following. The younger your account is, the more limits it has. Therefore, your best course of action is to gradually increase the number of actions.
Steer clear of bot-like behavior. 
We know – bots can bring you a lot of benefits. However, if you behave like a bot, you're at a high risk of getting blocked by Instagram. So, avoid the same repetitive actions, such as only following, and mix them up with others, like commenting or liking. Also, don't forget to take breaks during your botting game.
Don't ignore Instagram's Terms of Use or Community Guidelines, avoid using banned hashtags or posting inappropriate content, and all that jazz.
Possible fixes 
If you believe there was a mistake with your action block, you can report the problem in two ways: either use the action blocked error message screen that gives you the option to tell Instagram that they've made a mistake, or submit a problem report via Settings. Navigate to your Settings following these simple steps:
Click on the three lines on the top right.
Click Settings > Help.
Click Report a Problem > Report a problem.
Explain the problem, and click Send.
There's a possibility that Instagram blocked your IP address rather than your account. In such a case, if you're using a Wi-Fi network, try switching to mobile data or turning it off and on again.
Reinstall your Instagram app.
Re-install the latest Instagram app version. This way, you'll remove cookies and other data collected by Instagram, which may help to get rid of the action block.
Sometimes, it's best to just wait it out. So, if nothing works, stop using your Instagram account or any third-party tool for at least 24 hours. Then, the block period may be shortened.
What if I get action blocked while multi-accounting on Instagram?
If you're making good use of Instagram with multi-accounting management tools and encounter the action blocked error, then you'll want to take a good hard look at your tools. When managing many accounts through automation, it's crucial to use different IP addresses; otherwise, Instagram may ban your IP.
Rotating multiple IP addresses for your actions so that you don't become blocked is a clear job for proxies. With our residential proxies, you'll be able to avoid bans and proceed with your multi-accounting projects without worry. We offer access to a vast 55M+ ethically-sourced residential IP pool from real devices in 195+ locations, which allows you to look like an average user no matter what you do.
You can pair our proxies with all major Instagram tools and bots, including Gramdominator, Gramista, Follow Liker, Instamacro, and many more. In addition, you're able to enjoy the best entry point in the market with the Pay As You Go payment option, a <0.6s response time, a 99.46% success rate, advanced rotation, and unlimited connections and threads.
On a final note
There you have it! Instagram blocks may negatively affect your overall experience, but don't let them get you down. Make sure to implement the prevention tips and address the issue promptly when it arises. With a little bit of patience and a positive attitude, you'll be back to scrolling, posting, and engaging in no time.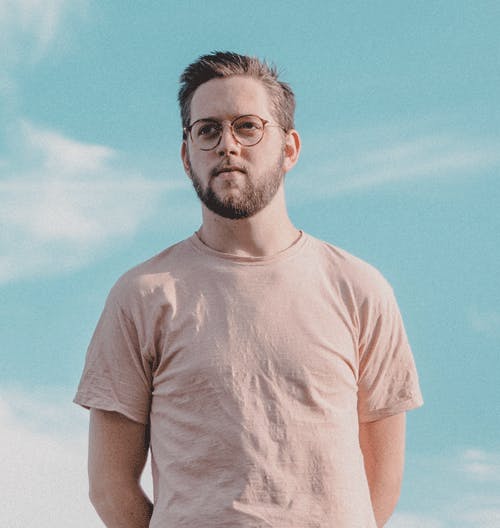 The automation and anonymity evangelist at Smartproxy. He believes in data freedom and everyone's right to become a self-starter. James is here to share knowledge and help you succeed with residential proxies.
Frequently asked questions
How to fix Instagram's action block error on Jarvee?
To fix action block on Jarvee, stop automation for at least a couple of days; reset error messages; use your embedded browser; adjust your settings to look like a real person; reset device IDs. And, of course, don't forget to use top-notch proxies to prevent Instagram from detecting and linking multiple actions to a single IP address. In addition, our 55M+ ethically-sourced residential proxies with state-, country-, and city-level targeting give an extra anonymity layer, sticky and rotating sessions, and much more.
How long does the action block last?
The duration of an Instagram action block error varies depending on the severity and frequency of the violation. An action block usually lasts a few hours to a few days; however, it can also take up weeks or even forever. 
Why am I still action blocked on Instagram after the date?
There're several possible reasons for getting the same error after expiration. First of all, it can happen if you continue violating Instagram's Terms of Use and Community Guidelines. Secondly, in some cases, Instagram itself takes longer than expected to lift the action block of your account. Or, lastly, you're facing some technical issues with the Instagram app or your device – in this case, try clearing your cache and cookies, reinstalling the app, or switching to a different device. If you have waited for a reasonable amount of time and your account is still action blocked, reach out to Instagram's support team. 
How to fix Instagram open proxy error?
As your IP address has been flagged as an open proxy, you should disable that proxy. To fix the error, clear your cache, and start using a private proxy instead. If the issue persists, contact Instagram's support team for help. 
How to fix the challenge_required error on Instagram?
To fix challenge_required error, you need to complete the security verification process to prove that it's really you, use the mobile app instead of the web version, and double-check that your internet connection is stable and secure.
How to fix the feedback_required error on Instagram?
To overcome feedback_required error, you should clear your cache, switch your network from Wi-Fi to cellular or vice versa, and reinstall the app.
Related Articles