February 20, 2023
9 minutes read
How to Use Google Trends for SEO
For many SEO masters out there, it's no surprise that using Google Trends for keyword research is a common practice. But, as it turns out, it goes way beyond just keyword research – there're quite a few ways you can hire it to boost your SEO efforts.
So, let's take a closer look at how Google Trends work. We'll show you how savvy SEO managers use Google Trends to boost their rankings. Shall we begin?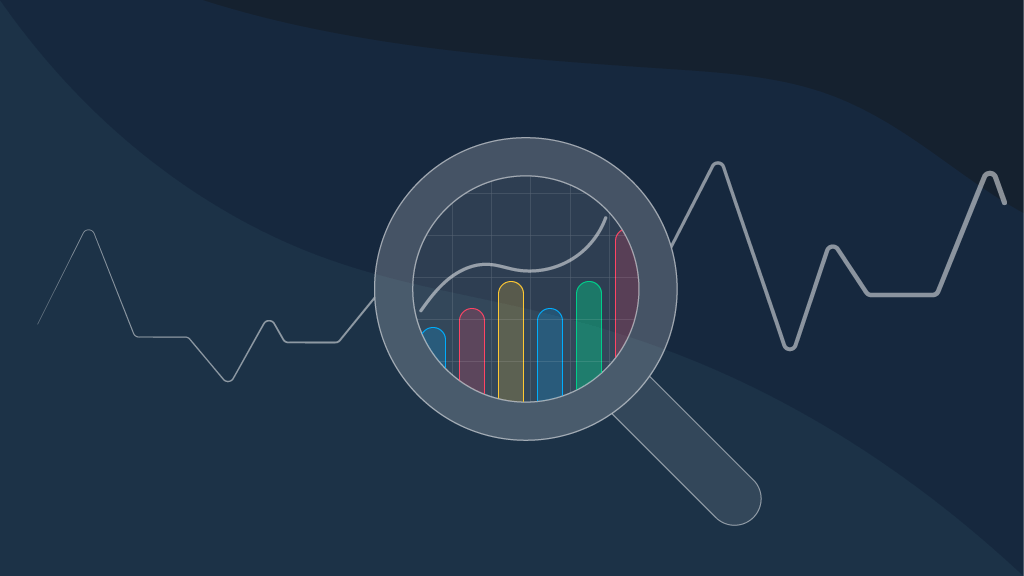 Blog

>

How to Use Google Trends for SEO
What is Google Trends?
Simply put, Google Trends is a platform that shows the popularity of any keyword searched on Google and Youtube. The popularity score on Google Trends ranges between 1 and 100, with 1 being the lowest and 100 being, obviously, the highest.
You can dig deep into the trending search data on the Google Trends platform by choosing a specific geographical region or a desired time frame. Google Trends allows you to filter data by selecting ranges from the lurky 2004 to the past hour. 
Is Google Trends free to use? 
Yes, Google Trends is completely free for everyone to use and unleash its full potential. As a free tool, Google Trends provides valuable real-time data that can be repurposed for keyword research and other SEO-related thingies.
Understanding the frequency rate
Before we move any further, it's essential to understand what exactly the 1-100 popularity range means. There's actually some confusion about that across the internet, but don't worry; we're here to help.
Many believe the trend curve directly represents the keyword's search volume over time. In fact, Google Trends displays the relative popularity of a keyword. Meaning that it's the ratio of a keyword's search volume to the sum of the search volumes of all queries.
To have a better understanding, take a peek at the definition from Google Trends Help Center:
"Trends adjusts search data to make comparisons between terms easier. Each data point is divided by the total searches of the geography and time range it represents, to compare relative popularity."  
Now that we've cleared that out, let's look at the evolution of Google Trends to really grasp how powerful the tool is.
Long ago, Google Trends was a website for analyzing people's interest in various topics. Today, it has grown into a huge web search data utilization tool that captures real-time public reactions and gauges news stories within the short-term future. With Google Trends, you can measure tendencies in social attitudes, political matters, sports, entertainment, or any other area relevant to your interest. 
7 ways you can use Google Trends for SEO 
As you've probably already gathered by now, Google Trends has some valuable data for your SEO strategy. So, let's find out how to get the most from it.
1. Find related keywords 
First, you need to learn how to use Google Trends for keyword research. Say you have an online shoe store where you're reselling products of the most popular brands. According to the latest fashion news, Ugg boots are making a comeback, so you want to check if that reflects on Google searches, and bingo! It does. Based on Google Trends, searches for "ugg boots" are steadily increasing. We don't really know if that's a good sign (just kidding).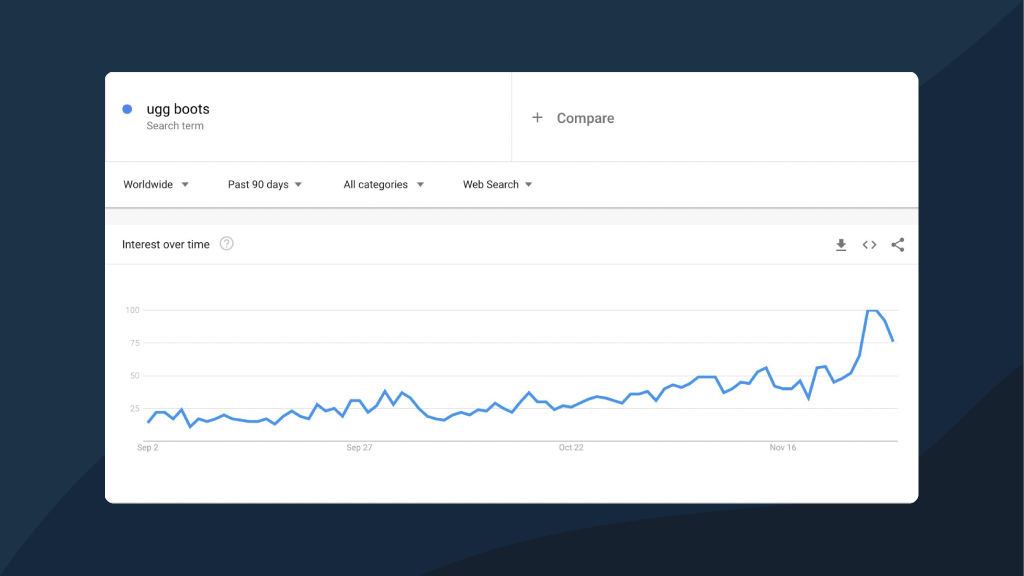 Now, a smart move would be to find similar keywords and optimize your blog posts, generate cluster topics, or figure out how to name your product categories. Such data is handy when seeding keywords or planning content ahead.
Related queries allow you to discover trending search terms similar to the keyword you've entered. For "ugg boots," these would be the top 5 related queries: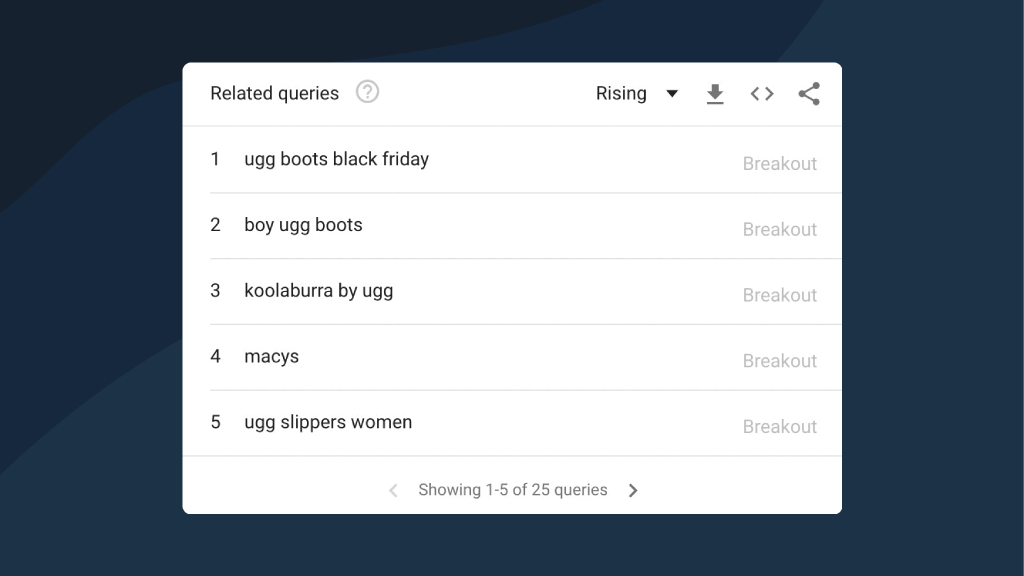 The queries that contain "black Friday" are seasonal (which we'll get to in a bit). However, you can see that keywords like "ugg platform boots" are on the rise, so you can definitely include them in your copy or order a pair to slay your outfit on your next get-together with friends.
To generate even fresher keyword ideas, take it a step further by finding related searches for the related searches. Also, you can use the keywords suggested by Google Trends as seed keywords in Keywords Explorer. 
2. Dive deeper into the keyword search volume 
As you probably know, keyword search volume is the number of times a term was searched during your selected time frame. It's a crucial metric for SEO managers since it drives new traffic to a website. With Google Trends search, you can easily check how the interest rate increased or dropped in your chosen period. Plus, you can even get a region breakdown, analyze state maps, and discover places where the term is most (or least) likely to be searched. 
Just a quick reminder – the interest rate ranges between 1 and 100. Once again, don't forget that the platform presents relative keyword popularity!
3. Localize your content
Google Trends shows in which country, city, or subregion a search query is the most popular. With local trends data available, you can determine where your products or services have the highest demand.
Here, we searched for the "air conditioner" search term, set the location as "worldwide", and selected the past 90 days.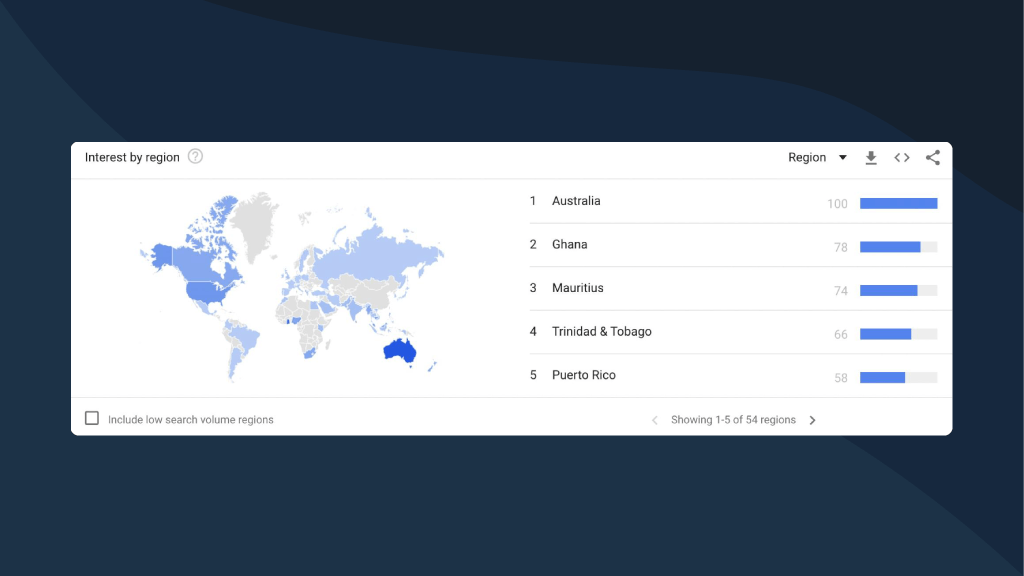 Unsurprisingly, the term was the most popular in Australia, which holds many heat-related records. Now that you know the hottest country, look at a city-level breakdown: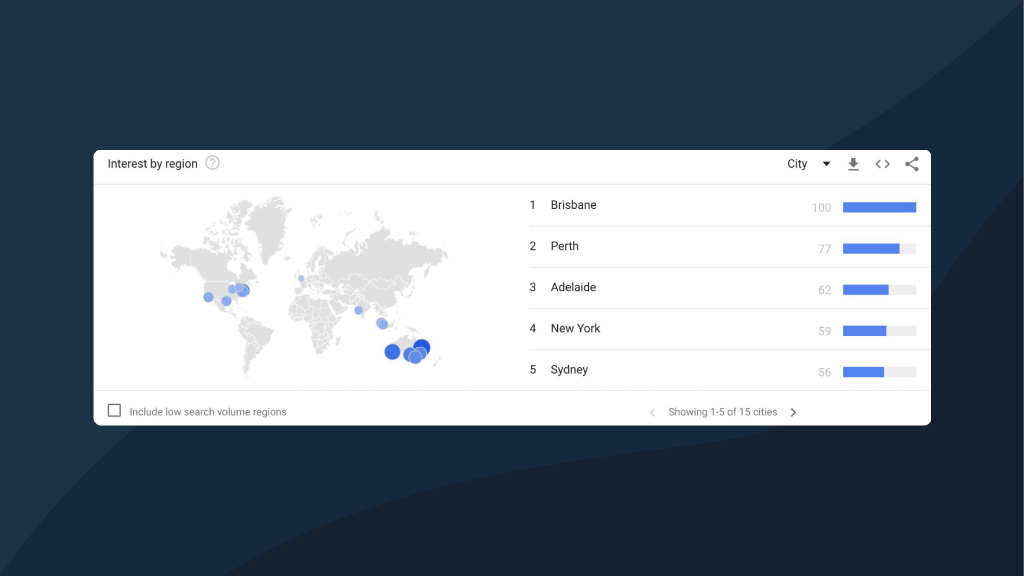 You can use this information to target specific regions with Google Ads instead of wasting your budget targeting the entire Australia. Or, you can produce content specifically targeted at people that live in that city.  
Also, bear in mind that nearly all SEO gurus use the same keywords shown on Google Trends. Local searches allow you to be creative, brainstorm long-tail phrases and stand out from the competition. To get even more accurate results in the local keyword searches, you can employ our powerful proxies that allow you to hop between 195+ locations!
4. Identify seasonal trends 
A good marketing specialist always plans their content. Often, it includes considering the upcoming season and the type of relevant content. As you probably know, the season highly influences search query volumes. By monitoring seasonal trends, you can tailor your content according to the time of the year.
It's crucial to plan your content in advance if your business is season-dependent. For example, you're selling air coolers in a country where it gets cold in the winter. By analyzing relevant historical search trends, you can predict the peaks and troughs and use this information to create content to overlap with the rise in demand.
For example, to get ready for the Christmas season, you should start preparing 2-3 months prior. With enough time on your hand, you can even create awesome graphics that are relevant to your content by using the different brush packs for procreate.
5. Generate new topics for videos or articles
Although Google owns Youtube, it doesn't mean that trending searches are the same across both platforms. Hence, generating content topics exclusively for YouTube would be a smart idea. 
Say you want to post a video tutorial on how to use your software. You need to figure out what queries people look for around that topic. With Google Trends, you can detect top or rising video topics and optimize your video title or description to align with what people are searching for. 
If you type in a query into the Google Trends search, by default, you'll get web results. To switch the search type, click the arrow next to the web search – now, you'll be able to choose the Youtube search in the menu. 
You can also use Google Trends to generate topics for your blog in advance and fill out your content calendar. Navigate to the bottom-left of the page and locate the Related topics section. Here, you'll find relevant topics similar to your search query. 
6. Discover "breakout" keywords 
Google Trends sometimes marks it as a "breakout" keyword representing an interest in a rising search query. Check the example below: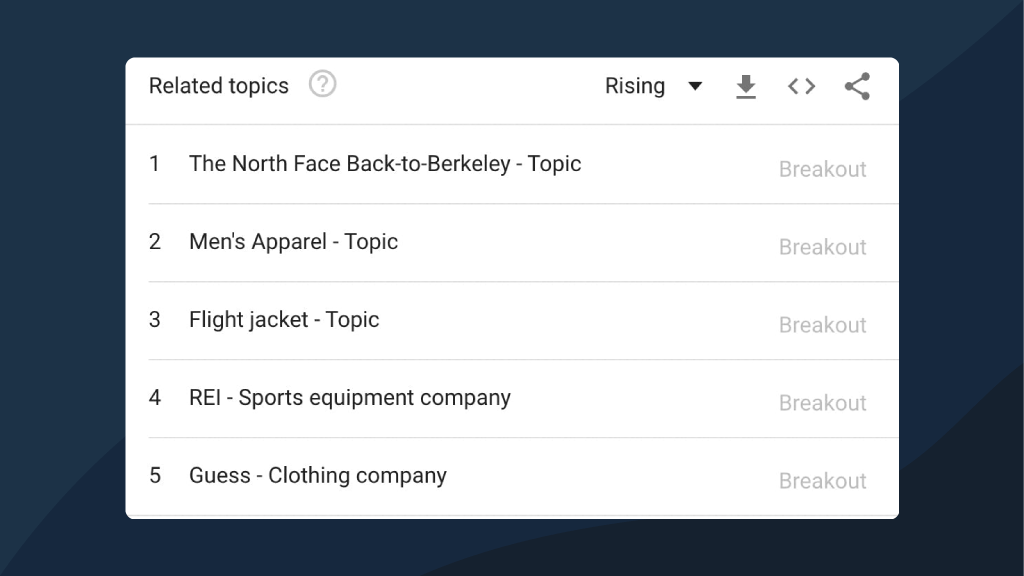 As Google describes it, "breakout" means that there's not enough search volume data to generate a significant "before" and "after" difference. So, any search term growing above 5,000% is considered a breakout keyword.
Since these keywords aren't competitive yet, you can be the first to establish a stable position before it goes mainstream. When it does, you'll likely be on the first page of Google.
7. Make future trend predictions
Finally, you can use Google Trends data to speculate what queries will be trending in the future and use it for your keyword research. You can look at past search trends and identify patterns in consumer behavior from year to year. If a keyword related to your business was rising in search volume at a similar period a few years in a row (i.e., every March-June for the past four years), make the most of it by targeting that keyword.
Challenges of acquiring Google Trends data 
Google Trends provides the "Compare" function, where you can enter multiple keywords and compare their interest rates. Here, we checked the popularity of "free kittens" and "free puppies" keywords in the United Kingdom for the past 12 months – it seems that the British are dog people: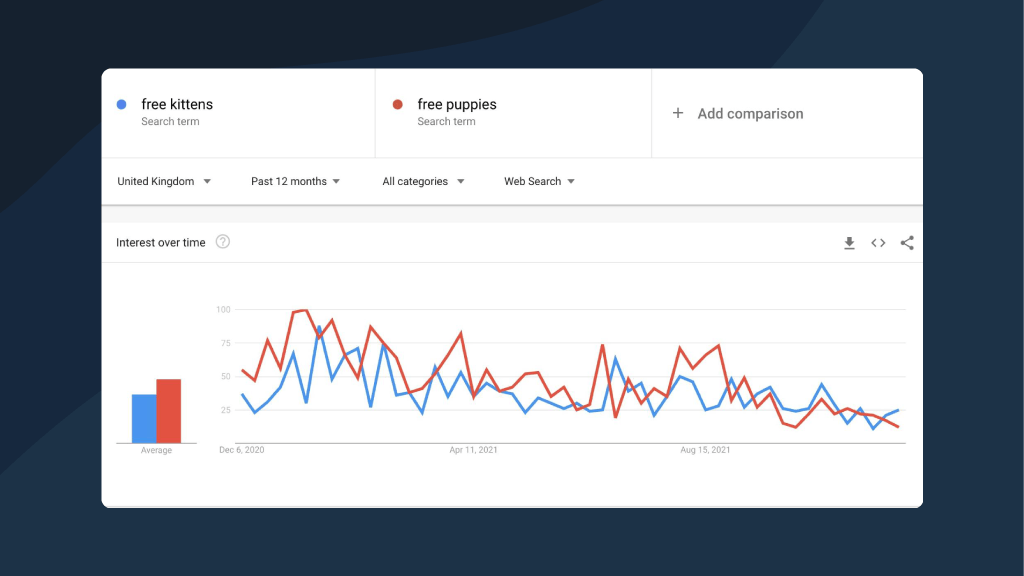 If it's just a couple of keywords you want to compare on Google Trends, it's easy to copy-paste that data into a spreadsheet. But say you're in a sneaker company and want to analyze a hundred brands – gathering this information manually will be way more time-consuming. You'd need an automated solution to acquire this amount of Google Trends' keywords data.
Unfortunately, Google doesn't offer an official solution for scraping its data. And, if you use a 3rd party scraper, Google won't make it easy to acquire its data – you may run into CAPTCHAs or IP bans along the way. 
However, you can avoid puzzlers and various restrictions with market-leading residential proxies. Our massive 55M+ IP pool with rotating sessions lets search engines like Google think that every request you make comes from a unique visitor. It means your 3rd party scraper can run freely for the highest-possible success rate.
Conclusion
Although Google Trends wasn't exclusively made for SEO marketers, it has evolved into a powerful tool for those striving to reach sweet ranking spots. Google Trends platform gives you a chance to get ahead of the competition by delivering the freshest trending search data out there. 
So, now that you know how to use Google Trends for SEO – take advantage of what it offers! After all, Google Trends gathers large amounts of pure gold, also known as data.
And don't forget to equip yourself with residential proxies! Grab a commitment-free Pay As You Go plan starting at just $12.5. Enjoy a smooth proxy setup, <0.61 response time, highly anonymous real mobile and desktop devices' IPs, unlimited connections and threads.
This article was originally published by Sydney Vallée on the SERPMaster blog.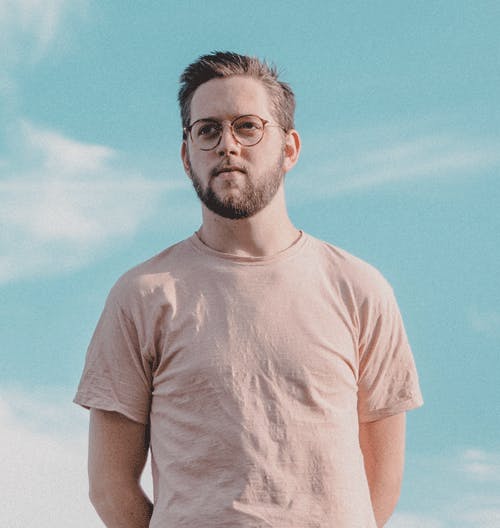 The automation and anonymity evangelist at Smartproxy. He believes in data freedom and everyone's right to become a self-starter. James is here to share knowledge and help you succeed with residential proxies.
Frequently asked questions
How do I use Google Trends for content?
Head to the Google Trends website and type a keyword or phrase related to your content topic. You'll get a handy graph showing search interest, related queries, and topics over time.
Pay attention to any spikes or dips in search interest for your keyword, as these could indicate trends or events you can tap into with your content.
Don't forget also to explore related queries and topics to get more ideas for your content. With Google Trends by your side, you'll be cooking up fresh and trendy content in no time!
What do you mean by "seeding keywords"?
"Seeding keywords" means strategically placing certain words or phrases throughout your content to improve its visibility in search engine results. By including relevant and highly searched keywords, you increase the likelihood of your content appearing in the higher SERP positions when people search for those terms online.
How reliable is Google Trends?
Google Trends can be a helpful tool for gaining insight into the search volume and interest in specific topics or keywords. However, it's important to remember that the data is based on Google's search traffic and may not necessarily reflect overall search behavior across all search engines. Additionally, the accuracy of the data may vary depending on the specificity and popularity of the search intent.
What is a good Google Trends score?
There's no specific good or bad score on Google Trends, but it can be a helpful tool for understanding the popularity of a particular search term over time. The scores on Google Trends reflect the search interest relative to the highest point on the chart for the selected period and geographic location.
So, a higher score indicates greater interest in the search term, while a lower score suggests relatively less interest. However, what constitutes a "good" score depends on your needs and goals. For example, if you're looking to target a niche audience, a lower score may still be valuable if it represents a high level of interest among that audience.
Related Articles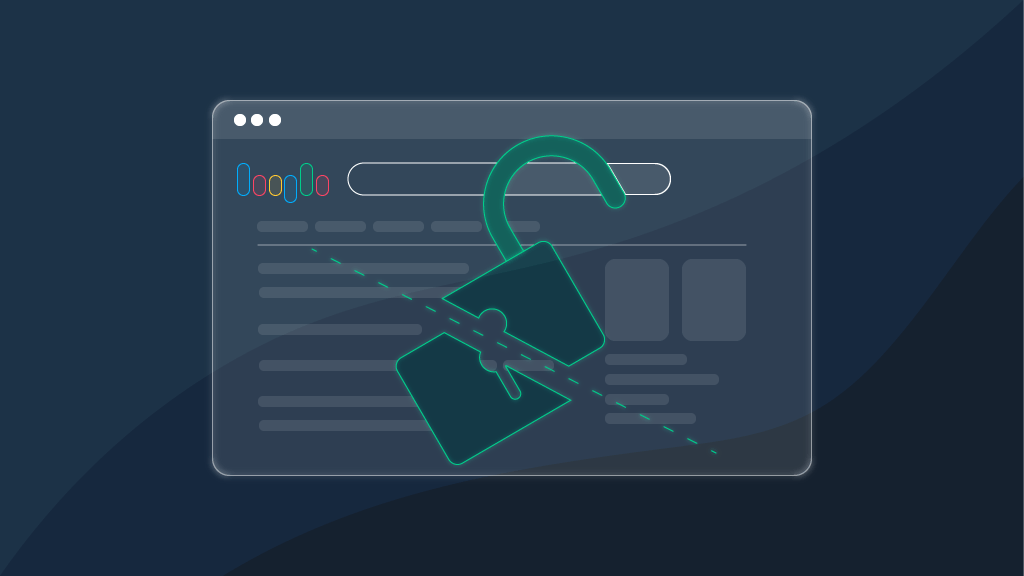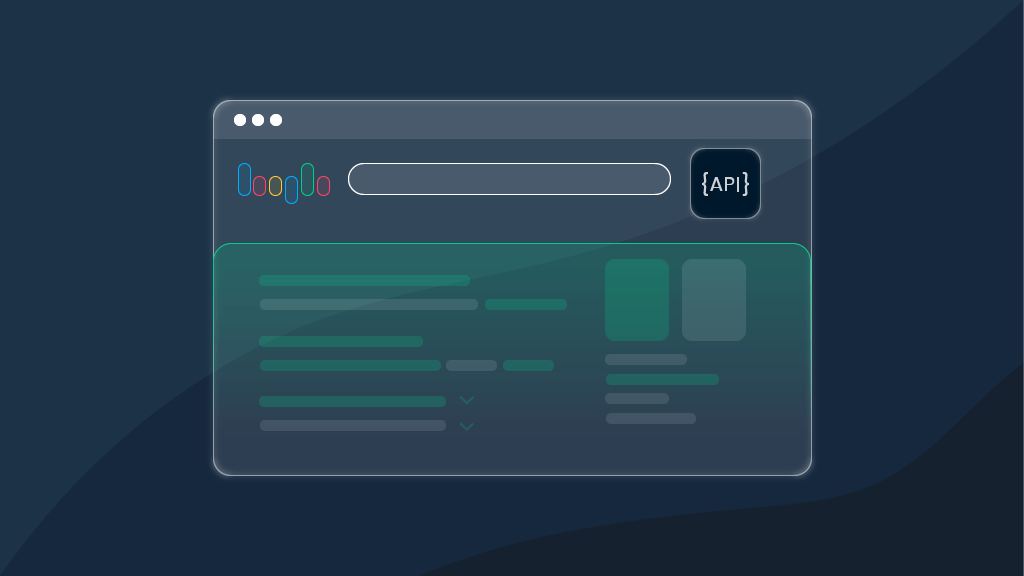 How to Scrape Google Search Data
It's hard to imagine a successful business that doesn't gather or use any form of data in 2023. And, when it comes to data sources, Google s...