I Want My Money Back. Can I Get a Refund?
If you are not entirely satisfied with your purchase, you may receive a refund only if you meet our conditions. NOTE: Crypto payments are non-refundable.
Refund conditions for usual payments are: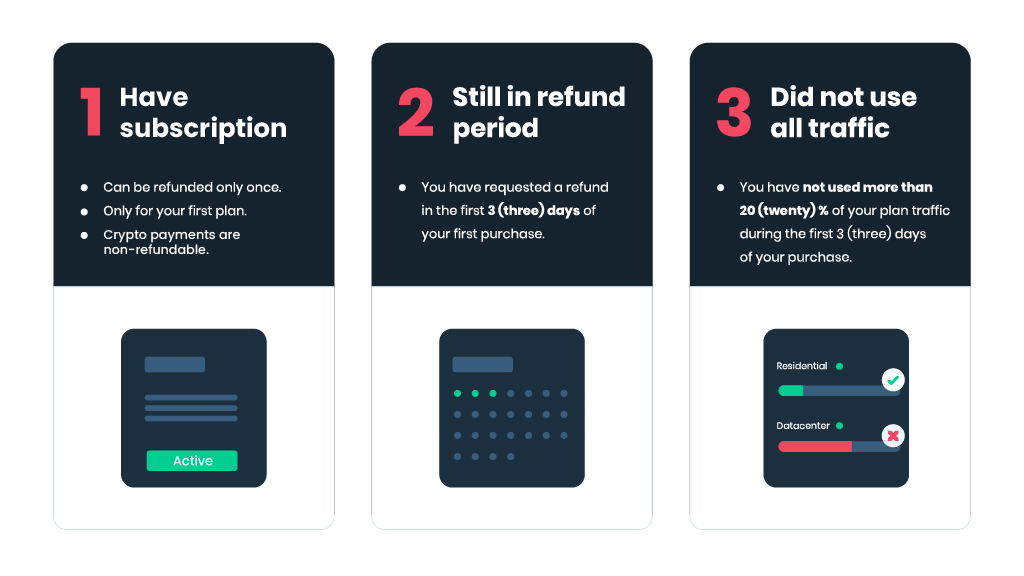 Also, please bear in mind that even if you meet the conditions established above, you will be refunded only once and only for your first order. That means that if during the 3 day refund period you have upgraded/renewed/downgraded your plan, you will be refunded only for the initial amount that you had paid.
Please note, that as each of our plans creates a monthly subscription, you are 100% responsible to cancel the monthly subscription before the next billing cycle happens.
All orders are conducted by our online reseller Paddle.com which is a Merchant of Record for these orders. To contact Paddle's support team reach out via Paddle.net
If your refund is approved, we will initiate a refund to your credit card (or original method of payment if possible) it should not take more than 5 business days.
Refund conditions for Smart Wallet payments are:
Payments with Smart Wallet are non-refundable. However, you can get the credits back to your Smart Wallet, and use it for any other product of your choice.
Have questions?
We are here for you! Start chat via LiveChat!