Flexible static (ISP) residential proxies pricing
With each plan you access
Rotating on-demand IPs
99.99% uptime
Unlimited connections & threads
US-level targeting
Unlimited-duration sessions
30Gbps bandwidth limit
24/7 tech support
In-depth dev documentation
SSL Secure Payment
Your information is protected by 256-bit SSL
Google Pay and Apple Pay are only available with Smart Wallet*
What people are saying about us
We're thrilled to have the support of our 50K+ clients and the industry's best
Praised for the exceptional standards of security, anonymity and ethical IP sourcing practices.
Recognized 3 years in a row for premium quality products with the best entry point.
Awarded for the most user-friendly way to access local data anywhere successfully.
Featured in:
Tame all use cases with static (ISP) residential proxies
Social media marketing
Run various social media automation tasks without being flagged or blocked for suspicious behavior.
eCommerce management
Break free from geographical restrictions and access online marketplaces from different locations.
SEO monitoring
Gather accurate search engine data, conduct keyword research, and track rankings for specific locations.
Price & travel aggregation
Easily collect real-time pricing and availability data from multiple websites (even geo-restricted ones).
AdTech tasks
Test ad campaigns, gain competitive intelligence, and prevent ad fraud by detecting suspicious traffic.
Market research
Access local data and get valuable insights, analyze customer behavior and competitors' developments.
Web data collection
Scrape websites at scale, bypass anti-scraping technologies, and collect data that fuel your growth.
Brand protection
Monitor websites for trademark infringement, detect and report unauthorized use of your brand assets.
Unleash unmatched proxy power with the best DIY self-service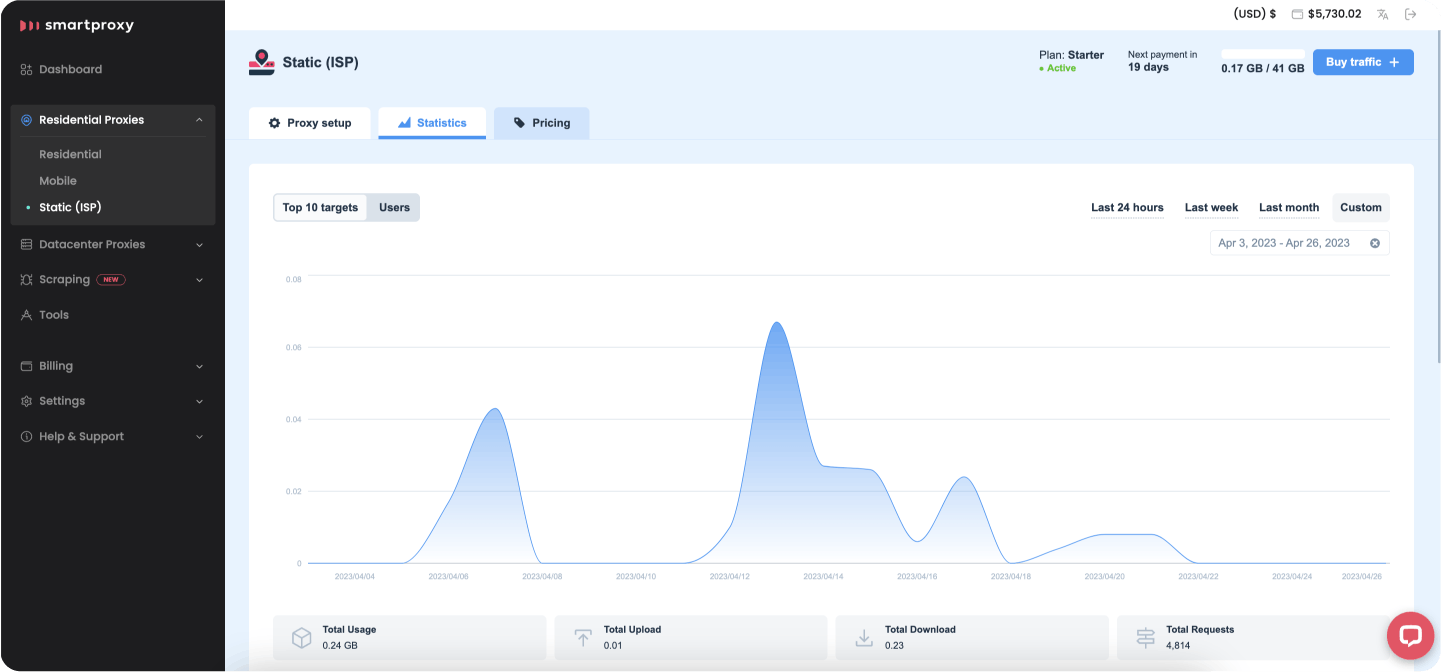 Hassle-free integration & complete usage statistics at a glance
Discover a user-friendly dashboard where proxy setup becomes a breeze. Wave goodbye to complex integrations and unlock growth with up-to-date data. Access vital statistics like traffic usage, whitelist IPs, and manage users in one convenient place.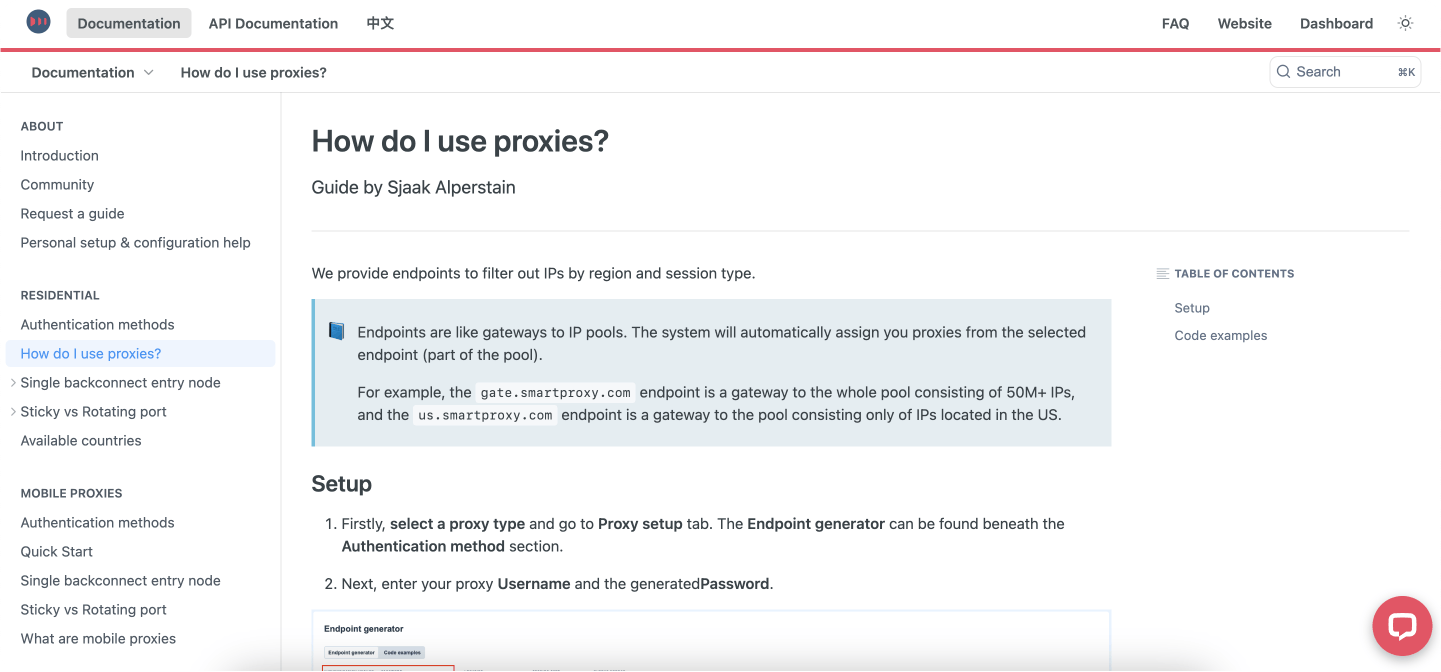 Extensive knowledge library & A-list features
Get the support you need throughout your proxying journey through 24/7 LiveChat.
Dedicated account managers.
Developer-friendly documentation.
Quick start guide for your easy peasy proxying journey.
You ask, we deliver – frequent product releases.
Frequently asked questions about mobile proxies
What is a static residential IP proxy?
Static (ISP) residential proxies can help with a range of use cases, including:
Social media marketing. Static residential proxies help marketers create and manage multiple accounts without being flagged or banned.
eCommerce account management. ISP proxies are used to track competitor pricing, bypass geo-restrictions, and access online marketplaces.
SEO tasks. Marketers employ ISP proxies to gather accurate search engine data, perform keyword research, and track trending specific location keywords.
Price and travel aggregation. Static residential proxies help collect real-time pricing and availability data from multiple websites.
AdTech tasks. Advertisers can use static residential proxies to test and optimize ad campaigns, gain competitive intelligence, and prevent ad fraud by identifying fake traffic.
Web scraping. Businesses can scrape websites with ease by employing ISP proxies. They help bypass anti-scraping measures, collect valuable data, and unlock growth.
Should I use sticky or rotating mobile proxies?
It depends on your use case and needs. We recommend using a sticky IPv4 or IPv6 mobile proxy when you need to stick with the same IP address, for example, for social media management or web scraping. Choose IP rotation when you need IPs to be changed frequently, for instance, for data collection or ad verification.
Why do I need a static IP proxy?
A static IP proxy is your go-to choice if you wanna protect your online identity, access region-exclusive content, collect web data, or run various marketing automation tasks.
With static residential proxies, your requests are sent from residential IP assigned by an internet service provider (ISP), guaranteeing greater anonymity and fewer chances of getting CAPTCHAs or, even worse – IP ban.
What is residential proxy vs. static residential proxy?
A residential proxy is an IP address assigned to a desktop device connected to a residential WiFi network. Residential proxy IP addresses can be rotated with each request or at selected period.
Static residential proxies have fixed (or static) IP addresses. This can be particularly useful for tasks that require a consistent IP address, such as web scraping.
Which is the best residential proxy?
It's tough to say which residential proxy is the ultimate winner. Different proxies help users with different use cases. However, when choosing a residential proxy, check the provider's reputation, the IP pool size, the proxy's speed and uptime, and whether 24/7 customer support is provided. We don't wanna brag, but we're awarded the best value provider by Proxyway, and we've got all the great features you might ever need, including 24/7 support!
How do I set up static (ISP) residential proxies?
It's a very easy process, and with our quick start guide, you're on the path to success in just a few steps.
1. Sign up for a Smartproxy account.
2. Select a static (ISP) residential proxy plan that suits your needs.
3. Configure your proxy request.
(optional) Sync the request formulation with your app or bot.
4. Choose any target and leverage unlimited bandwidth and concurrent sessions.
5. Run your tasks without a single worry and keep the same IP forever (or as long as you need!).